Most Haunted medium 'claims that he was told missing girl had died by spirit messenger called Sam'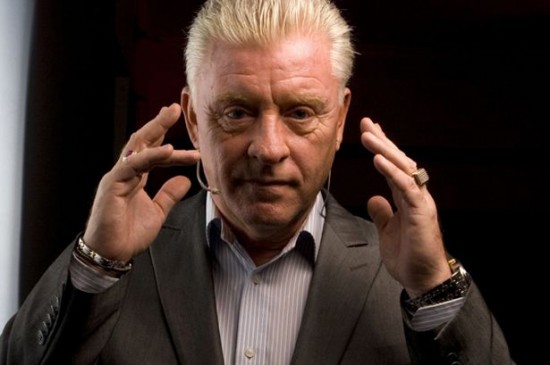 Maddie is dead': Derek Acorah is reported to have claimed that missing girl in "not on this earth any more"
Television psychic Derek Acorah has reportedly claimed that missing Madeleine McCann is dead, following a message from the spirit world that told him: "She's not on this earth any more".
The medium - who is said to have disgusted the McCann family with his claims - allegedly added that the child would soon be reincarnated after joining the "spirit world".
The 62-year-old is reported to have said to The Sun: "I know her parents are convinced Maddie is alive and I'm really sorry – but the little one has been over in the spirit world for some time."
"I don't think it'll be long before she reincarnates.
"When children pass over who haven't had full lives I believe they choose the time to come back in the same form again – as another little girl."
The newspaper also quoted a source close to parents Kate and Gerry McCann as saying that Acorah's comments are "incredibly distasteful and insensitive".
The former host of paranormal TV show Most Haunted added that he was surprised that his comments had upset the McCann family.
According to the report, Acorah declares that he was contacted a spirit messenger called Sam shortly after Madeleine vanished during a family holiday in Portugal five years ago.
The controversial medium said he had been asked to travel to the Praia da Luz resort to help with the hunt for Maddie, but decided not to travel after Sam "confirmed she was dead".
Missing: How police believe Madeleine McCann may look now
Metropolitan Police / Teri Blythe
Two weeks ago it was the fifth anniversary of Maddy's disappearance and parents Kate and Gerry spoke of their renewed hope that Madeleine will be found.
Mrs McCann said an ongoing review of the case by Scotland Yard and the release of a new age-progression picture of Madeleine had left them feeling "probably as positive" as they had been for a long time.
"We are realistic. We don't know what has happened but we know there is a very good chance that she could be alive - there is no evidence to the contrary," Mrs McCann told presenter Lorraine Kelly on ITV's Lorraine.
"We know year after year, missing children, children that have been abducted, are found alive."
In the interview, Mrs McCann praised the new age-progression photograph of Madeleine and appealed to the public to circulate the image as widely as possible.
The Metropolitan Police released the picture last week of what Madeleine might look like now, coming up to her ninth birthday on May 12.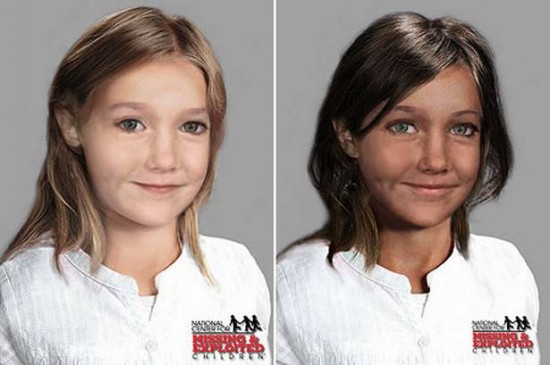 Age progression: Previous mock-ups of how Madeleine might look as an older child, including how her skin might have tanned in a hot country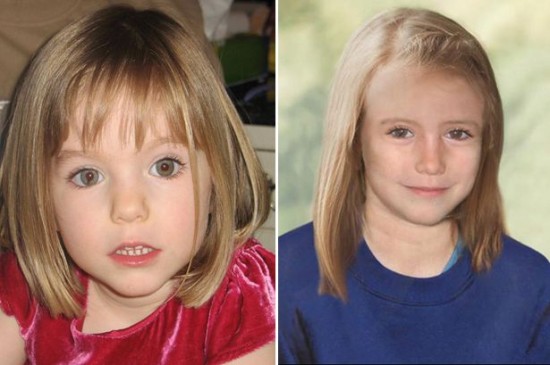 Appeal: How Maddy would look today, aged nine
Metropolitan Police / Teri Blythe
Mrs McCann, 44, said: "We would be really keen - the general public helped us with the last age-progression - so we would be really keen for them, really grateful, if they could circulate that image as far and wide as they can."
The couple's interview come after Scotland Yard's review of the case was revealed to have identified 200 potential leads.
But the Portuguese authorities have so far refused to reopen their investigation into how the little girl vanished on a family holiday to the Algarve on May 3 2007.
Detective Chief Inspector Andy Redwood, the officer leading the Scotland Yard review, spoke last week of his belief that the case can still be solved and launched a fresh appeal for information.
His team of 37 officers have sifted through 40,000 pieces of information and identified 195 "investigative opportunities".
Mr Redwood has said he believes Madeleine was a victim of stranger abduction and says there is evidence she could still be alive.
Madeleine was nearly four years old when she vanished from her family's holiday apartment in Praia da Luz as her parents dined with friends at a tapas bar nearby.
The McCanns spoke of their gratitude at the help they are getting from Scotland Yard's ongoing review of the case.
And they repeated their hope that Portuguese police will now reopen the case.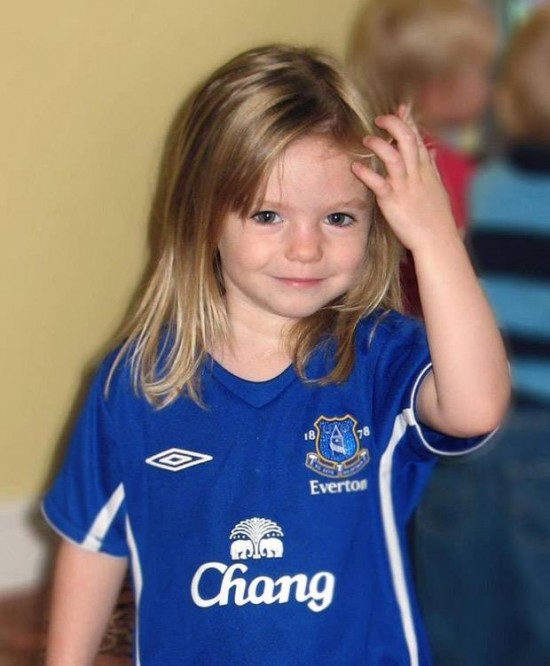 Football fan: Madeleine in her beloved Everton kit in a snap taken shortly before she disappeared
Mr McCann said: "In previous years we have felt like we have been on our own to a large extent and now we have got tremendous resource, doing a great job.
"We feel so much better supported and you know that those things that we have been talking about for the last three-and-a-half years about looking at every single piece of information, that's going on.
"We are happy to be led by the police and let the Metropolitan Police do the negotiations with the Portuguese authorities.
"But it does feel now finally someone in the authorities, British authorities, are actually trying to find Madeleine, who is completely innocent of course."
Mrs McCann also thanked the public for the support they had received for their campaign.
"I don't believe we would have got the review without their support," she said.
"People have petitioned and petitioned and petitioned and you know, wrote letters, and here we are.
"And we just hope, obviously, that the case will get reopened in due course because we certainly believe that is our best shot at finding Madeleine."
The couple said Madeleine's younger siblings, twins Sean and Amelie, who were two when she disappeared, "completely understand" their parents' continued search, and have even said they will join the hunt when they are older.
Mrs McCann said: "Sean said to me, and this is going back about 18 months now, he said 'Shall I come and work for you and find Madeleine when we get older?' He meant 'me and Amelie will look for Madeleine'.
"I have absolutely no doubt about that at all. But I don't want them to have to be in the position where they are carrying around this kind of sadness and frustration or whatever it is, to find Madeleine. We obviously want to find her now."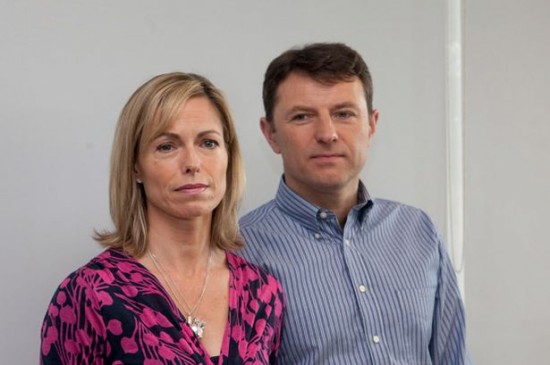 "Incredibly distasteful and insensitive": Newspaper source claims that the McCanns are disgusted by Acorah's alleged comments
They also spoke of their attempts to lead as normal a life as possible for the sake of their other children, and avoid being over-protective of them.
Mr McCann said: "It's a near-normality, I think. As opposed to having five in the house, there are four in the house most of the time.
"I keep saying this, but to anyone, the casual observer, I think we look like an ordinary family.
"And that is how it is most of the time, Sean and Amelie completely understand what we are doing and occasions like this why we are away from home.
"They know, we keep them updated about what is happening and the developments, you know about the Met, about the new age-progression."
His wife added: "You have to kind of fight against it (being over-protective) a little bit to be honest, to let them develop and enjoy life like other children. It is inevitable I think."
Mr McCann went on: "I certainly think I am more protective than what I was, and Kate, before, I would have said was on the over-protective side and that is one of the ironic things about this.
"But you can't mollycoddle them. At the same time they have got to develop and become independent. I feel strongly about that.
"We have got to remember what happened to us was incredibly rare."
They said they had received hundreds of letters and emails and comments of support from the public, especially in the last week since the new age-progression photograph was released.
The official Portuguese inquiry into Madeleine's disappearance was formally shelved in July 2008, although private detectives employed by the McCanns continued the search.
Scotland Yard's review of the case - called Operation Grange and expected to cost nearly £2 million in its first year - was launched last May after a request from Home Secretary Theresa May supported by Prime Minister David Cameron.