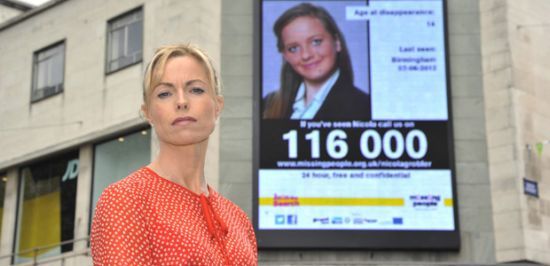 Kate McCann, in front of an appeal to find Nicola Grobler, outside the Bullring shopping centre
A MISSING Birmingham teenager was found on the day her image was used to help launch a new campaign to locate runaways.
Fourteen-year-old Nicola Grobler was discovered today, as Kate McCann, the mother of Madeleine posed in front of a picture of her at the Bullring.
Nicola was last seen when she left her home in Millbrook Drive, Northfield, on June 7. She was later seen in the city centre talking to two men.
West Midlands Police revealed she had been found but no more details were available.
The breakthrough came on the day Mrs McCann launched a national campaign to find missing people.
A network of billboards will publicise the cases of individuals whose whereabouts are no longer known in major cities running across rail and underground networks, on high streets and in shopping centres.
The advertisements will include details of individual missing people, creating awareness of the new number to call for sightings – 116 000 – and harnessing the public's help to join the search.
Mrs McCann, a new ambassador for the charity Missing People, said: "When your child goes missing you want the whole world to stop and join the search.
"More than 250,000 people are reported missing each year in the UK, worryingly they could fill the Olympic Stadium three times over.
"Thankfully, campaigns like this can play a vital part in the search. In May, two youngsters featured in the charity's 'Big Tweet for Missing Children' were found safely.
"The search for Madeleine continues and I am delighted to lend my support as an ambassador to this practical solution that gives hope to families like mine."
The value of advertising space donated by the outdoor advertising industry was put at more than £1 million.
And around ten million adults are likely to see the images over the summer when – thanks to the Olympics – Britain will be at its busiest.
The campaign is organised by the Outdoor Media Centre, the trade association for outdoor media owners, and produced by Grand Visual, a production and creative technology company