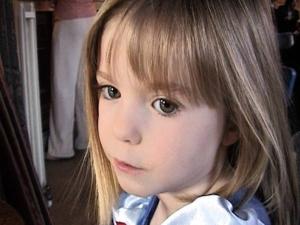 This March 2007 file photo released by the McCann family Friday, May 4, 2007, shows 3-year-old British girl Madeleine McCann.
The Saturday Star can today reveal for the first time the scan that Cape Town property developer Stephen Birch handed over to British and Portuguese authorities, which he claims proves that Madeleine McCann's tiny body was buried on the property of former suspect Robert Murat.
A video showing Birch using a georadar machine, allegedly in Murat's garden at Casa Liliana, is now circulating on the web, including on YouTube. In the interview with Portuguese TV station, Expresso TV, he said: "Maddie died on May 3, 2007 and she was put into the ground that same day."
This comes as a heated row has erupted between Birch and two Cape Town private investigators amid allegations that all three are in the hunt for the sake of the R35 million reward.
Last week the Saturday Star reported claims by the property developer that he may have found the grave of missing Madeleine McCann less than 200m from the Praia da Luz resort in Portugal, using the radar scanning device. Now private investigators Martin van Wyk and his sister Bernice Manson have accused Birch of stealing their research and passing it off as his own.
But Birch didn't respond in detail saying he had been advised by his attorneys not to comment on the case further.
This may be because Murat, in Portugal, is adamant that he will sue Birch. Murat's lawyer, Francisco Pagarete, told the Algarve Resident on Wednesday: "We are suing Mr Stephen Birch for the unlawful entry into private property."
In an interview with newspaper Correio da Manhã (CM) Birch admitted that while in Praia da Luz, he monitored the property "24 hours a day", with the help of two "collaborators", and when the house was vacated he would enter and search the backyard with the georadar equipment.
And on an Express TV news clip, Birch can clearly be seen operating the georadar on Murat's property, hunched under hanging tree branches in the dead of night. He said he had entered the property four times.
"There is a big driveway on Casa Liliana. But I believe that Maddie is buried beneath a second driveway, a less important driveway, which was constructed over the ground. The driveway is small and one cannot even turn a car in it. I don't believe it serves any purpose. It is covered by pebble stones."
Birch further said he was aware that there was a good chance that he would be prosecuted for trespassing. He said he had hired two law firms – one in SA and one in the UK to protect his interests.
"I hope and will plead with the Portuguese police to investigate my claims and excavate the property. If they are successful, I will have no problem assisting them with their investigation," Birch said.
Madeleine, 3, disappeared from the Praia da Luz resort five years ago while her parents dined with friends nearby. It is not known if she is still alive. When contacted for comment on Van Wyk and Manson's claims, Birch said he was aware of them, but denied them.
"The claims are false but under the legal advice of my lawyers I will not comment on the matter at this point."
He was speaking to the Portuguese police and the McCann family about having the remains in the grave disinterred, and had passed the scans on to the Portuguese police.
"Many people don't believe my story, and you can't blame them because I don't have definite proof. I want the site to be dug up so we can confirm if it indeed holds the remains of Madeleine McCann," Birch said.
Van Wyk, meanwhile, said Birch was solely motivated by the reward and was willing to resort to illegal means, such as trespassing, to get it.
He feared Birch may have destroyed years of research by going public with his findings.
"Our investigation is incomplete and is still ongoing. By revealing the location without any substantial proof for the police to act on, he has given the person behind the disappearance a chance to cover his tracks. Not to mention his illegal activities in obtaining his 'evidence'. It was utterly reckless and may have let a murderer walk free.
"I've had authorities in the UK call and ask me what he's trying to pull and tell me that he may have destroyed any hopes of solving the case."
Van Wyk, a former military police investigator, who has specialised in missing children for the past 28 years, said he was drawn to the McCann case and visited Portugal in October 2007 and in September 2009.
He sold his shares in a bar he part-owned to fund his investigation. Van Wyk said he had made contact with Madeleine's relatives and received their "blessing" to investigate the case.
They passed on descriptions of Maddie and any new information that came to them. Although the information they were able to provide was limited, it was very useful.
He also gave interviews with local newspapers on his findings.
Van Wyk said he had been in touch by e-mail with the police in Portugal and the UK. He had collected thousands of documents on the case – e-mails, newspaper articles, notes, and hundreds of photographs. The photographs included pictures of the possible grave site.
Just over a year ago, Birch approached the siblings and asked to join them on the case. Manson described him as an acquaintance and loner.
"We'd see him socially sometimes but we wouldn't call him a close friend.
"Then about a year ago he found out about our research and approached us as a partner," said Van Wyk. They had agreed to the partnership.
Van Wyk said: "Initially, things went well. Birch was good with ideas and he was very inquisitive about all the role players and our theories. But at some point, he began to obsess and called us several times in the middle of the night for information."
Van Wyk claims Birch insisted on keeping Van Wyk's passport, ID and case files to prevent him from travelling to Portugal without him.
Manson said Birch became furious when he was unable to access their photographs last year.
"The documents were stored at a relative's place who was away for the weekend. When I told him we could only get the photos in a few days he lost it and said 'you people aren't interested in the case or the money' and 'how useless' we were.
"We had decided to wait until September to go to Portugal and confirm our theories. But Birch was impatient, so using our research and theories went on his own, using his underground radar device. He only joined us to get the photos and location of the possible grave site. He left as soon as he got what he came for."
Van Wyk added: "I have worked on this day and night for the past five years, reading through articles from the media and reports from law enforcement intelligence. And for Birch to claim it was his work was just too much."
He admitted that he was interested in the reward but said he had deeper motives. "The reward is without a doubt a factor, but having worked on missing children cases for so long I wanted to establish a global network to help find missing children. The money and renown for solving the McCann case would go a long way to realising this dream."
Van Wyk said they still intended going to Portugal in September. -Saturday Star