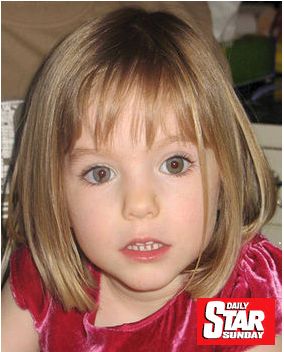 ABOVE: The Home Office is refusing to give key documents relating to the Madeleine McCann case to the Daily
CRUCIAL files relating to Madeleine McCann's disappearance are being kept secret by the Government to avoid a diplomatic war with Portugal.
They contain discussions between Home Office ­officials and the Met over ­vital information on the case.
But Home Secretary Theresa May and her staff have spent the past nine months preventing the Daily Star Sunday from obtaining the papers.
They said there would be "specific detriment to the UK's relationship with Portugal" if the four files were released.
Ms May also claimed disclosure of three of the documents would "stifle discussion" ­between ­officials.
But we understand the papers may show a difference of opinion between the Home Office and Met officers, who are reviewing the files on Madeleine's 2007 disappearance in Praia da Luz.
The Met review was ordered last year after pressure from the Home Office and David Cameron.
Sources said there were "serious concerns" within the Met that they were investigating a "foreign" case over which they had no jurisdiction.

Although the £2million-a-year bill for the Scotland Yard team is being met by the Home Office, around 27 detectives are being used.
Labour peer Lord Harris, 58, said: "My reservation was the way in which the Prime Minister ­instructed the Metropolitan police to investigate the McCann case – which is difficult in that it's not in the Met's ­jurisdiction – in a different country and everything ­depends on the co-operation of the ­Portuguese ­authorities."

Our first request for the documents was made last September but the Home ­Office turned us down.
We appealed but again the Home Office decided ­secrecy was more important.
Last week, after more than five months' deliberation, the Information ­Commissioner ruled in the Home Office's favour but ­informed us we can now ­appeal to an Information Tribunal.
Its response said: "The documents contained ­information provided to the UK in ­confidence by ­Portuguese officials and ­internal discussions ­between the Home Office and the ­Metropolitan Police ­Service of such ­information."
Madeleine's parents Kate and Gerry McCann, of Rothley, Leicestershire, are convinced she is still alive.
Their spokesman Clarence Mitchell said the couple remained optimistic of a breakthrough.