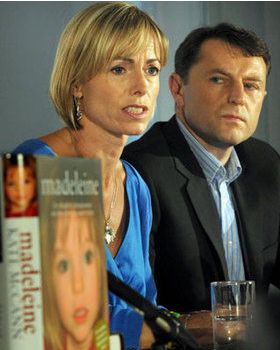 'ABOVE: Kate and Gerry believe their daughter is still alive
POLICE searching for Madeleine McCann are probing a bizarre claim her body is buried near the apartment where she vanished.
Private investigator Stephen Birch has given officers ground radar scans that he alleges show a burial site.
The South African, who is reportedly obsessed with the mystery, is now collating more material at Scotland Yard's request.
Mr Birch said he took the scans last week in a street near the Ocean Club complex in Praia da Luz, Portugal, where Madeleine disappeared more than five years ago, days before her fourth birthday.
The youngster's parents Kate and Gerry McCann yesterday refused to comment on the latest claims about their daughter.
The doctors, both 44, believe she is still alive and have pledged never to give up the global search until she is found.
Mr Birch, also a commercial property developer in South Africa, said he had spent £40,000 buying the ground-penetrating scanner and being trained in its use.
He said: "All I want to do is solve the mystery and bring closure to Madeleine's family. I am convinced she lies where I have scanned. I've had the scans analysed and they show digging, a void and what could be human bones."

Scotland Yard said it would always consider any new potential evidence and pass it on to the Portuguese authorities.
A source close to the McCanns, of Rothley, Leics, said: "It appears this so-called investigator used scanning equipment during a visit to the resort in June.
"Kate and Gerry do not believe there is anything credible in what he is saying. It seems to be complete lies. If there was any truth in it, police would be out there digging up the area looking for possible remains."