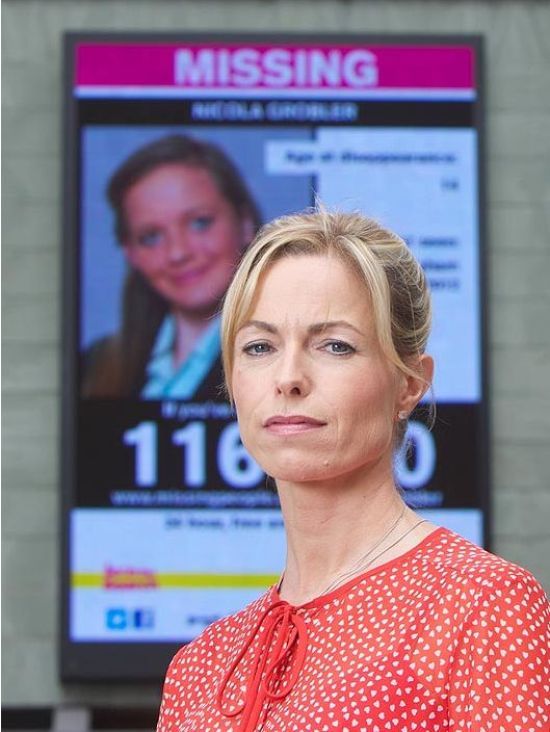 Campaign ... Kate McCann launches billboard advertising missing 14-year-old Nicola Grobler BRAD WAKEFIELD
KATE McCANN will never give up on finding daughter Madeleine – and from today she is putting the same willpower into helping trace other missing children too
She is beginning a new role as official ambassador for the UK charity Missing People and launching a massive new billboard campaign searching for the nation's lost loved ones.
It is the first public role Kate, 44, has undertaken since Madeleine vanished days before her fourth birthday in Praia da Luz, Portugal, on May 3, 2007.
Speaking exclusively to The Sun, Kate said: "As the search for Madeleine goes on, I want to look at the wider picture and see what I can to do to help.
"Before Madeleine went missing I was horrifyingly ignorant about it myself. It really is much bigger than people realise."
Kate also opened up about how much the huge public reaction to the abduction meant to her, husband Gerry and Madeleine's brother and sister Sean and Amelie, both now seven.
She said: "I know that we have been 'lucky' in one way because we received such huge publicity when Madeleine went missing.
"We continue to and that really helps our search for her. But many families haven't had that. They haven't had their missing loved one's face put out there.
"They haven't had the appeals, the publicity, all the things that can lead to a child being found.
"Just having that level of public awareness can be so vital."
However, Kate revealed that despite the international publicity about the case, even her family sometimes felt forgotten — so she can imagine other families' pain.

The former GP, who gave up her practice after Madeleine was taken, explained: "When your child, or someone you know, goes missing, you want the whole world to stop and start looking for them.
"You feel completely helpless. There's an initial flurry of activity then it dies down. You feel like the world has gone away and forgotten about your missing child. That's when you really feel lost.
"As time goes on you feel as if people have started to give up on them. It's very hard to keep the momentum going.
"But for the families, having these billboards up gives them real hope.
"They feel that people do care, that people will see their loved one and be thinking about them and looking out for them. They CAN be found."
Kate added: "Sometimes, when I am having a low day, someone will ask me for a poster of Madeleine to display and it will give me a boost.
"If Sean and Amelie see a sticker of Madeleine on a car window they will say, 'Oh, look Mummy — they are looking for Madeleine'.
"That gives you huge support and strength. You feel you aren't on your own any more. To know people care is a huge help."
For 12 weeks digital advertising space all over the UK will carry photos and information about missing people — mostly children.

Advertising space worth approximately £1million has been donated by outdoor media owners including Clear Channel, JCDecaux, Primesight and CBS Outdoor.
More than ten million people are expected to see the posters in what is the biggest co-ordinated missing persons appeal ever launched in the UK.
Kate said yesterday: "The billboard campaign will have a massive impact. It is something that has been needed for a long time.
"Initially it will be for 12 weeks but we are hoping that it will become permanent.
"Sadly, because of our experience we have learned a lot about what can help in the search for a missing person.
"There is a lot of evidence that getting a picture out there quickly is crucial.
"It is estimated that one in seven missing children are found because a vigilant member of the public has recognised their face from a poster or similar.
"In America they had the famous milk carton campaign, where pictures of missing children are carried on the side of them, which was hugely successful."
And even years on, in cases like her own, Kate believes continual publicity can produce answers,
She said: "Having these billboards on show could prick the conscience of people who know where that person is or what has happened.
"I've been told by experts that you need to keep 'pricking' the conscience of that someone who knows.
"Keep prodding until finally that person thinks, 'I've had enough' and comes forward with information about where the missing person is."
In her new role, Kate, from Rothley, Leics, will be speaking at events, lobbying Parliament for better funding of the charity and supporting families whose loved ones have disappeared.
She also hopes the campaign will raise public awareness of the whole issue of missing people.
She said: "It was recently revealed that in the UK a child goes missing every three minutes. That is frankly terrifying."

Kate also wanted to help the charity to thank them for the help they have given her and her family in the five years since they last saw Madeleine on their family holiday.
Speaking about the fifth anniversary she said: "It's been very tough, but you just have to get through it. Birthdays, anniversaries, Christmas — they don't get any easier.
"We are really pleased with the way the Scotland Yard review is progressing, It's in good hands.
"But what we need is for the Portuguese police to reopen the case. That is crucial." Cops in Portugal closed the inquiry back in 2008.

Kate visited one of the new billboards, bearing the smiling face of 14-year-old Nicola Grobler, at the main entrance of the Bull Ring shopping centre in Birmingham.
Nicola went missing from her home in the city on June 7 this year.
Yesterday her mum Chantelle, 36, a legal PA, said: "Nicola went missing while I was at work. I left her at home and she seemed fine. But when I came home she had disappeared.
"The fear and helplessness is overwhelming. Every night and weekend I have been out searching for her. I spend my nights crying and praying for her. It's been absolute hell.
"To know that now millions of people will be able to see her photo and someone might spot her is fantastic.
"It has given me such hope. I just hope it will help bring her home."
Kate, of course, knows just how Chantelle feels.
She said: "I want people to look at this picture of Nicola and really take it in.
"Nicola and all these children could be anywhere, even hundreds of miles away from where they first went missing, and you could be the person to spot them.
"If you do, please ring the number on the bottom of the posters and billboards — 116 000 — even if you don't want to leave your name.
"Just that one call could end a family's misery and reunite them with their child."

Appeals so vital
THE outdoor advertising industry feels strongly that we can make a difference for the hundreds of thousands of people whose family member is missing.
That's why we're donating more than £1million of digital billboard space – to help the authorities find some of the missing people whose stories are so important but too often slip under the radar.
This summer is going to be one of the busiest in British history – which means these ads will be seen by more than ten million people, in shopping centres, at train stations and on High Streets across the country.
If you recognise a missing person from one of the ads, make sure you call 116 000.
If you spot a missing
person ring 116 000
YOU can also help Kate McCann's campaign by donating to the charity Missing People.
A donation of £3 pays for a poster appeal for a missing child. And a gift of £10 pays for a volunteer to follow up a sighting.
Give £3 by texting SEARCH to 70990. Or give £10 by calling freephone 0800 MISSING (647 7464).
If you have information about Madeleine McCann ring the Find Madeleine team on 0845 838 4699, or contact the Met's Operation Grange on 0207 321 9251.
a.lazzeri@the-sun.co.uk