*Moors murder victim Keith Bennett's mother died after nearly 50 years of fruitless searching for her son's body
*Brother vows to continue hunt for body and warns police: This is not closure
*Bennett family say police should have acted sooner on information suggesting killer Ian Brady might have revealed where he left the body in 1964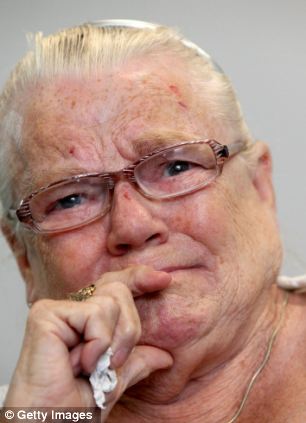 Tragic: Winnie Johnson, the mother of moors murder victim Keith Bennett, has died
The mother of Moors Murders victim Keith Bennett said on her deathbed if she ever saw Ian Brady again she would 'stab him from top to bottom'.
In her last ever interview before her death yesterday, brave Winnie Johnson said she believed Brady's 'final sick twist' would be to never reveal where her son was buried.
'I don't know now if Brady will ever tell me where my Keith is buried.' she said.
'He could take it to the grave with him. I suppose that would be his final sick twist.'
'Or he could give me hope like he has done before and then nothing would come of it.' she told The Sun.
Details of her trauma were revealed as Keith family last night slammed the police for dragging their heels in the hunt for his body – after nearly 50 years of fruitless searching.
A spokesman for the Bennett family demanded to know why police had not acted sooner on potentially vital information suggesting that killer Ian Brady might have written a letter finally revealing where he had left Keith's body in 1964.
'The fact there seems to be such a delay from the time when police were made aware of the possible existence of this letter, to when they actually acted, will be a cause for concern for the family,' the spokesman said. 'Questions certainly need to be asked – answers will be expected.'
Mrs Johnson, who was 78, spent much of her life pleading in vain for Brady and his accomplice Myra Hindley, who died in 2002, to help her find Keith's body so that she could give him a Christian burial.
Twelve-year-old Keith was lured into the couple's car while walking to his grandmother's house in Manchester in June 1964 and was the third of their five known victims. Brady told Hindley he had strangled the boy with a piece of string.
The latest twist began last month when Brady's legal advocate and frequent visitor Jackie Powell was interviewed for a Channel 4 documentary entitled Endgames Of A Psychopath, to be screened tomorrow.
On camera, Ms Powell, 49, said Brady had given her a sealed envelope to be opened only after his death, which would 'allow Winnie Johnson to find peace'. Powell speculated that the contents might reveal the location of Keith's body on Saddleworth Moor, which overlooks Oldham.
The documentary producer, Paddy Wivell, waited ten days before passing the information on to police, who then took more than two weeks to act on it and arrest Ms Powell. Channel 4 sources said producers had urged Ms Powell to hand her letter over to the police, but she went 'off radar' for a few days.
When she made contact again, she told them she had returned the letter to 74-year-old Brady at Ashworth psychiatric hospital in Merseyside.
The first publicity packs for the programme went to newspaper journalists early last week and previews of the programme were also shown to TV reviewers.

Killer: Moors murderers Ian Brady and Myra Hindley went on a killing spree but the location of one of their victims, Keith Bennett, right, has never been found
Despite two weeks in which little action seemed to have been taken, within hours of journalists being made aware of Ms Powell's claims, police sought an arrest and search warrant and raided her South Wales home.
The Bennett family spokesman said: 'Did detectives treat this as a serious matter? If Brady has written a confession letter of some sort then that could be a vital piece of evidence which should have been considered immediately. There seems to have been liaison between producers from Channel 4 and the police. If detectives had such information why didn't they act on it?
'It sounds as though they were spurred on by the media interest.
'If this is found to be the case, the family would be deeply upset and disappointed.'
As the family promised to continue Mrs Johnson's quest for the truth, her other son Alan criticised Greater Manchester Police for the way they have conducted the long-running search for his brother.
In an open letter to police on his website, Mr Bennett hit out at claims by Martin Bottomley, head of the cold case team at GMP that new evidence had been taken seriously.
He claimed police ignored evidence from two 'extremely credible' witnesses over the past few months, one of them David Smith, the chief prosecution witness at the original trial.

Winnie Johnson never stopped her fight to find her son's body and hold a proper funeral for him before she died. Right, digging with her son Joey, on Saddleworth Moor near Manchester years ago

Determined: Mrs Johnson, pictured in 2010, made several thousand trips to the Moors in search of her son
Mr Bennett said: 'At the time of the original search in the 1960s and again in the 1980s, detectives wanted to know anything that David could remember from his visits to the moor with Brady and Hindley.
'Yet he was never taken to the area where Keith was murdered nor interviewed in the correct manner, despite wanting to help in any way he could.'
Mr Bennett said that when he and his partner sent Mr Smith photographs and a video of a particular area, he was able to instantly recall significant landmarks and the area very clearly.
'Furthermore, he had a great deal to say about Brady's unusual behaviour there – which mirrored Brady's behaviour where the other victims were subsequently found. All this has since been made available to the police but they failed to take it seriously.
'David passed away in May of this year but he had been prepared until the very end to speak to them.

Murderous couple: Ian Brady and Myra Hindley. Jackie Powell's house in South Wales (right) was searched by police looking for the letter she claimed was given to her by Brady
'The other credible witness supplied us with information that tallied perfectly with what David had told us and also with Brady and Hindley's own statements in letters to me.'
Mr Bennett added: 'The information remains with the police. I cannot and will not ever be able to understand their apathy towards all that has been presented to them.
'Greater Manchester Police have said my mother is now reunited with Keith but the fact remains that as long as Keith remains on the moor her wish that he should be given a proper burial remains unfullfilled.
'As far as I am concerned, until Keith is found, then he is still in the possession of Brady and Hindley.'
'Our fear as a family is that now my mother is no longer with us, this may be seen by the police and the media as some sort of closure to the case.
'This must not be allowed to happen, both out of respect for Keith and my mother's memory and for those of us who loved them both.'
Today, he said that he will remain 'in the possession' of Brady and Myra Hindley until his body is found.
Writing on his website, www.searchingforkeith.com, Mr Bennett, who was nine when his brother was taken off the street by Brady and the late Hindley, said: 'As far as I am concerned, until Keith is found then he is still in the possession of Brady and Hindley.
'Our fear as a family is that now my mother is no longer with us, this may be seen by the police and the media as some sort of closure to the case.
'This must not be allowed to happen both out of respect for Keith and my mother's memory and for those of us who loved them both.'
David Smith was 17 when he brought an end to the Moors Murderers' spree by calling police after he saw Brady batter Edward Evans to death with an axe in October 1965.
No one from Greater Manchester Police was available to respond to Mr Bennett's claims yesterday.