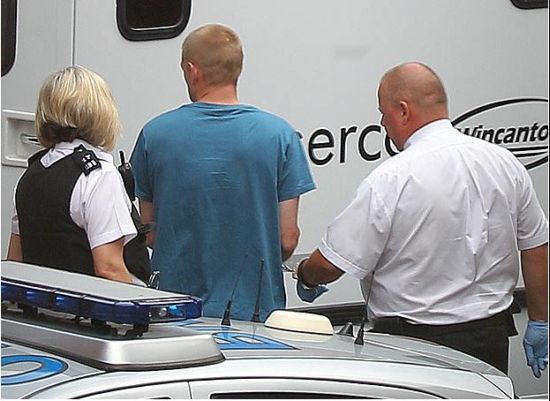 Accused ... Hazell heads back to jail yesterday Peter Jordan
TRAGIC Tia Sharp was smothered and wrapped in a black bed sheet,
police believe.
The 12-year-old's bruised body was then stuffed in bin bags and put in the loft at gran Christine's home.
Tia's local council confirmed that a serious case review would be launched into the schoolgirl's death.
Chief Executive Ged Curran, of Merton Council, said: "Our thoughts and condolences go out to all those who knew Tia."
"The local Safeguarding Children Board will now commission a serious case review, the standard procedure in a tragic case such as this.
"The review will be assisted by the police, health services and local authorities."
Tia's stepgran sobbed yesterday as she said: "You always think things like this happen to someone else."
Devastated Angie Niles added: "You see stories about Madeleine McCann or James Bulger and you think it must be awful what the family are feeling.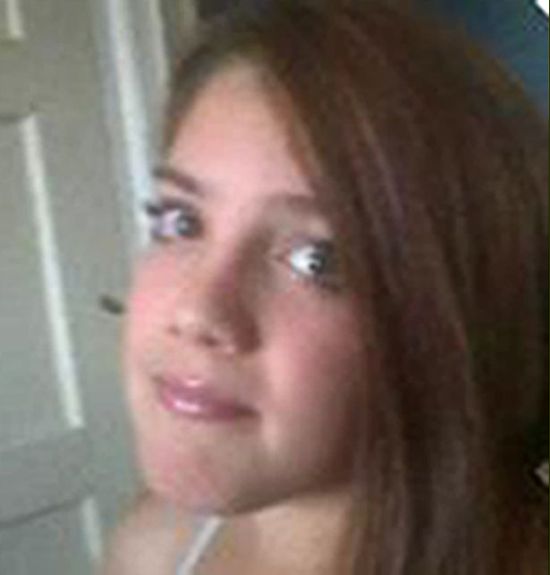 Murder victim ... Tia Sharp, 12
"But you switch the telly off and forget about it because it is not actually happening to you.
"We are all in absolute shock and devastated.
"It is just awful, I can't find the words to describe how terrible this is."
Angie, whose son David is the partner of Tia's mum Natalie, added: "I am going to miss that little girl so much.
"She used to spend every other weekend with me and I used to take her down to the shops and buy her little bits and pieces."
Angie was speaking yesterday as Stuart Hazell, 37-year-old boyfriend of Tia's grandmother Christine Sharp, appeared in court by video link charged with her murder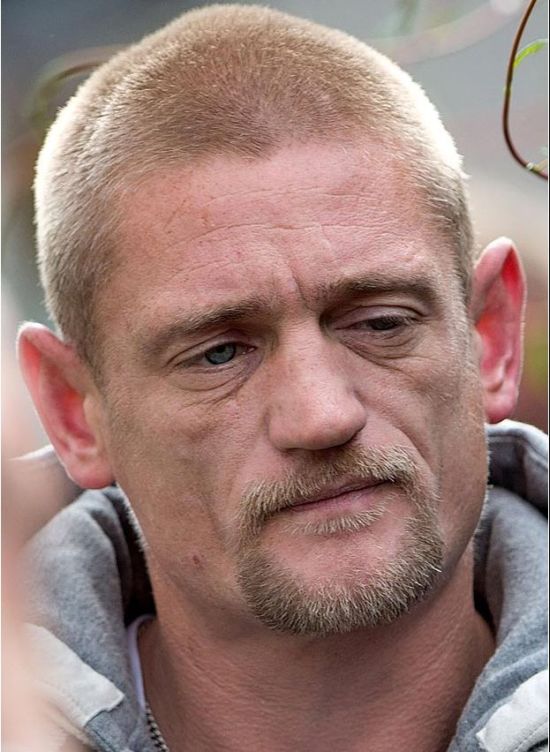 Court ... Stuart Hazell
The video was streamed from Sutton police station to Camberwell Green Magistrates' Court in South London — amid fears an angry mob would gather if Hazell appeared in the dock.
Hazell, wearing a blue T shirt, looked down at his hands and his voice cracked with emotion as he confirmed his name and address.
The clerk of the court said: "You are charged with between August 2 and 11 within the jurisdiction of the Central Criminal Court you murdered Tia Sharp. Do you understand the charge?"
Hazell, who sat alone at a table with a policewoman standing behind him, replied: "Yes."
He was remanded in custody to face an Old Bailey trial. It is thought he was being kept in isolation from other prisoners in Belmarsh jail last night. Hazell was charged after Tia's body was found on Friday at the home he shares with Tia's gran Christine, 46.
Police believe Tia was smothered before being wrapped in a black bed sheet and stuffed in bin bags, a source said.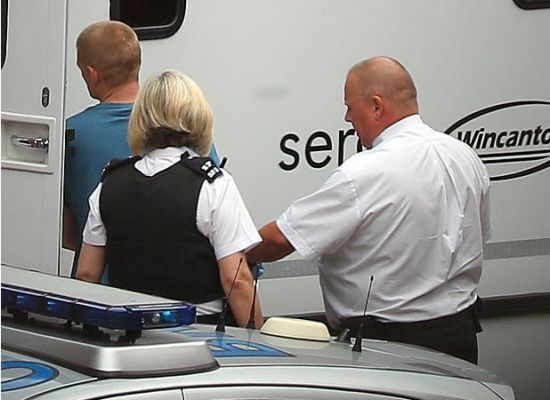 Accused ... Hazell placed in a prison van yesterday
Her bruised body was discovered by officers on Friday when they searched the loft of the terraced home in New Addington, South London. Angie said the shock of Hazell's arrest was still sinking in. She added: "It is all a bit surreal at the moment — as if we are on the outside looking in.
"But I think everyone is going to be up in the air until we know the whos, whys and the wherefores.
"I don't know Stuart Hazell. We talked a bit, hello and that. But I think I only saw him a couple of times. I didn't really see or hear much about him or Natalie's mum." Angie said Natalie, 31, David, 29, and their two young sons were still struggling to come to terms with the tragedy.
She added: "I speak on the phone to David every day a couple of times.
"I've told him not to worry about me, because I have bad health, but to concentrate on Natalie and the boys. He has got to be strong for them. But obviously he is devastated.
"David was in complete denial that it was even Tia's body right up until Sunday.
"I am just so glad all of his childhood friends have come out to support him.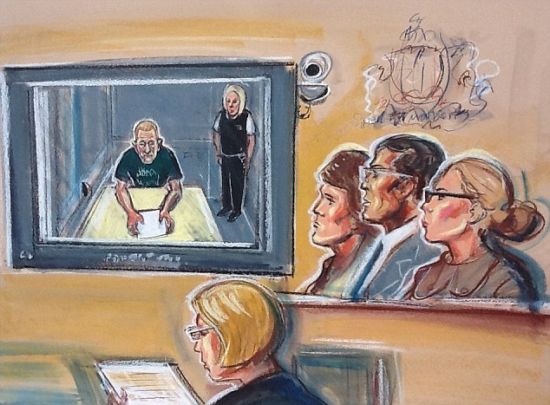 Video link ... artist's impression of Hazell
"They have also been here to see me, the community has really come together."
Tia went missing 11 days ago while staying with gran Christine. It was claimed she had last been seen leaving the house for a shopping trip.
Police have been criticised for failing to find her body during initial searches.
It is thought officers were at the property at least three times before Friday evening's grim discovery.
Angie yesterday said she is also angry with officers failing to keep her informed.
She added: "They came here and saw me the Saturday after Tia disappeared. They said, 'We will keep in touch, we will keep you in the loop'.
"Then it wasn't until this Saturday night when they came to see me and they said they would send a family liaison officer round. But I haven't heard anything or seen anyone. We need support. I want David to support Natalie, she is in shreds, or bits or however you like to put it."
Angie said the family have not yet talked about the tragedy.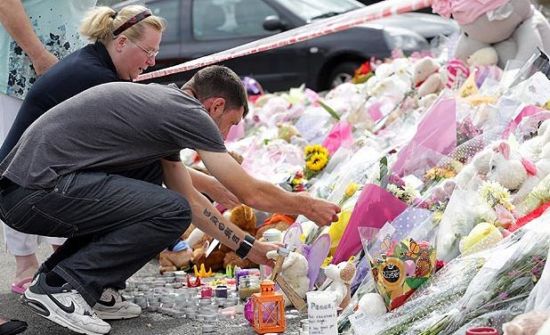 In memory ... Tia's dad pays his second visit to New Addington shrine
She said: "It is so raw we haven't been able to sit down and talk as a family.
"We could end up making so many judgments and they might be wrong, so until we know we don't want to speculate."
Christine was arrested on suspicion of murder after the body was found. She was bailed on Sunday pending inquiries.
When asked about Natalie's relationship with Christine since her arrest, Angie said: "I don't think I can comment on that to be quiet honest. It is going to be so raw for Natalie."
Tia's real dad Steve Carter spoke of his last meeting with her yesterday as he made his second visit to a makeshift shrine of floral tributes and toys near the New Addington house.
He said: "The last time I saw Tia she jumped in my arms. She told me about her school and what she was doing.
"She called me dad. I'll miss her forever.
"I've not spoken to Natalie since we found out. I spoke to her before that. I told her to go home and wait for Tia.
"I've not spoken to her since. She's heartbroken. That's her baby girl."
A post mortem on Tia's body was suspended on Saturday night and will start again this week.
Christine's neighbour Paul Meehan, 39, is also on bail after being questioned on suspicion of giving a false statement claiming he had seen Tia leave the house on Friday.