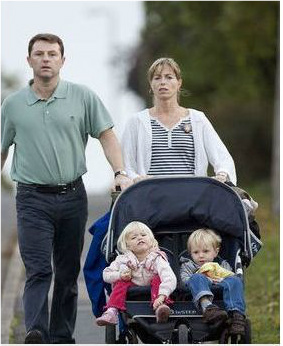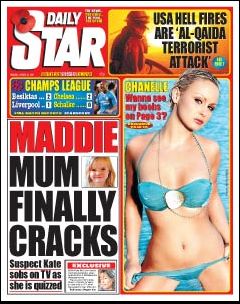 Above: Lonley [sic] Kate and Gerry McCann
Torment as Kate's sobs halt interview four times.
Kate McCann broke down sobbing during her first TV interview as a suspect in her daughter Madeleine's disappearance.
And she had to halt filming four times. The GP - who has been slammed by some for being 'so cool' after her daughter vanished - wept uncontrollably as she told how her life has been ripped apart.
Her agony stunned Spanish telly journalist Roberto Arce, who described her as "prostrate with pain". He had to stop filming as Kate dissolved into floods of tears at almost every mention of Madeleine's name. Then she and heart surgeon husband Gerry, both 39, told the TV crew "No more - we can't take any more."
Madeleine vanished from the couple's holiday apartment in Praia da Luz, Portugal, on May 3rd, two days before her 4th birthday. The McCanns agreed to give the interview to launch a fresh hunt for her in Spain, where their own private investigators believe she is being held. But the interview - at a friend's home in the north-west of England - left Kate "in pieces".
"I feel sad and I feel lonely and our life is not as happy without
Madeleine."
She collapsed in floods of tears after saying: "I feel sad and I feel lonely and our life is not as happy without Madeleine. I feel anxious she is not with us.
"We have not even seen her since she was four. She needs our help. She needs her family."
When the interview resumed, more tears flowed as she went on: "I think she is possibly being held by someone in their house.
"As Madeleine's mummy I feel in my heart that she is out there. I do not know why anyone could harm her.
"I don't know how anyone could harm anyone as beautiful as Madeleine. I don't mean her appearance - I mean as a beautiful person." Fighting to contain her emotions she said two-year-old twins Sean and Amelie constantly asked about their missing sister. "Madeleine was very much a big part of their life."
Kate said: "They are not upset and they are not distressed but they are very much aware that she is not there. Amelie said: "Madeleine is coming home to my lovely house and I am going to share my toys with her."
Kate broke down again when asked about the last time she saw her daughter. She said: "She was very happy and very loving and I know Madeleine was very happy with her life. She is special."
Describing his last sight of Madeleine, when he nipped away from the tapas bar to check on her at 9.05pm, Gerry said: "I was the last to see her. "I thought how beautiful she was and how lucky I was the be the father of three children.

We think of her all the time - think of the good times we had in our house." In the end the emotionally drained couple called a halt to the questioning. They had spurned offers from heavyweight broadcasters like Oprah Winfrey and Barbara Walters, to talk to tiny Spanish channel Antena 3.
They wanted to target viewers across southern Spain and Portugal and North Africa. Their investigators have also set up a Spanish telephone hotline for anyone with information.
Kate said: "I strongly believe Madeleine is out there. Somebody knows something. It is not about us. It is about Madeleine." She said she is "100% sure" she and her husband will be cleared. Police are due to travel to England to re-interview them and their friends in the next few days.
Kate added: "I will take anything thrown at me. We know we are innocent. All that matters is getting our daughter back."
Gerry added: "We have our own heartache and grief but we are absolutely determined to help in the search for Madeleine.
"Our friends will ensure we will be eliminated from this inquiry." The couple refused to discuss DNA allegedly found in their apartment and hire car - which led to them being made suspects.
But Gerry declared: "We are certainly not scared. There is no evidence DNA tests will show anything other than us being completely innocent." A family source who witnessed the interview said: "It is the worst I have ever seen them. Kate, especially, got very distressed."
The McCanns' hotline is 00 34 902 300 213