Kate and Gerry McCann faced shocking new claims yesterday that forensic tests had proved their daughter's
body
had been in their hire
car
.

Test results found traces of
Madeleine's
DNA
in the couple's Renault Scenic, which was rented 25 days after the girl went missing, it was alleged.


Analysis was understood to have shown that bodily fluids found in the silver Renault came from a
body
, and not from a live person, the London Evening Standard reported.

Scroll down for more ...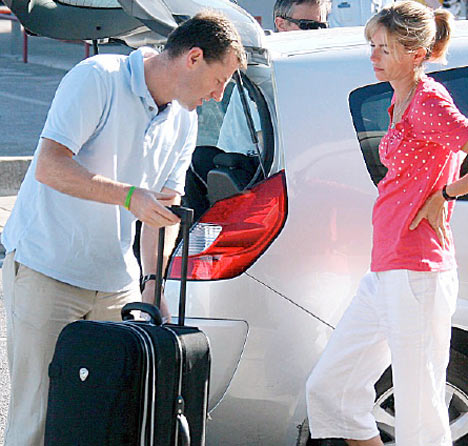 Hire car: Test results found traces of Madeleine's DNA in the Renault Scenic
used by Gerry and Kate McCann in Portugal
Sources claimed the material showed the car must have been used to move Madeleine's body, and said the quantity found was too great for it to have been transferred from her toys or clothing as they were transported in the car.

If true, the forensic results would be compelling evidence against the McCanns and would speed moves for them to face fresh police interrogations or even be charged.

But friends insisted there were innocent explanations for all the alleged results, and said the slurs were particularly painful coming as the family prepared to mark a sad milestone.


It is exactly six months today since Madeleine disappeared from her family's holiday apartment in Praia da Luz in the Algarve.
Scroll down for more ...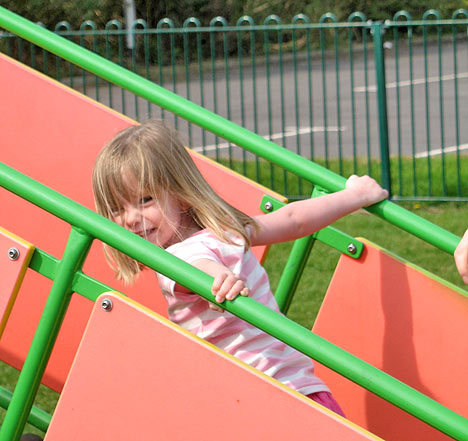 Playtime: The McCanns have issued a new photo of Madeleine as they mark six months since she went missing from their holiday apartment in Praia da Luz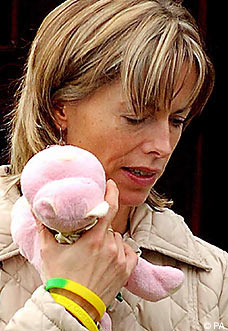 'Beautiful little person': Kate McCann has made a new plea for her daughter
The McCanns will tonight attend a special vigil at their local church in Rothley, Leicestershire.

Friends asked why - if there was supposedly bombshell new evidence linking them to their daughter's death - they remained free to attend the vigil.

And they pointed to recent moves in the Portuguese police investigation which suggested detectives were re- examining the couple's belief that their daughter was abducted and taken to Morocco.

One said: "It seems odd this should come out now, when everything we have heard from the police during the last few weeks suggests the investigation is very much moving in the opposite direction.

"This sort of stuff just serves as a painful distraction from what they feel everyone should be concentrating on, and that's finding Madeleine."

The public prosecutor in the case said this week he would not order new police interrogations of the couple without seeing better evidence against them, and police privately admitted that would take "a miracle".

But the prosecutor said he was still waiting to see all the evidence in the case from the Forensic Science Service in Birmingham, and that his position could change if the results presented strong evidence against the McCanns.

The Evening Standard said all the results had now been passed to the police, but an FSS spokesman said: "Analysis is still ongoing and not all the test results are back."
Mr and Mrs McCann, who were made official suspects in the case in September, have always denied involvement in Madeleine's disappearance.


Friends say any traces of her DNA in the hire car could have got there when it was used to ferry her clothes and belongings from the family's apartment to a new villa.

Family spokesman Clarence Mitchell said: "These claims are nothing new. This is yet another unsourced, unsubstantiated article and we simply won't comment on it.

"Kate and Gerry have absolutely nothing to hide. Anything the police may have found can be explained in wholly innocent terms."

Yesterday Mrs McCann made a new plea for an abductor to let her "beautiful little person" go.

In a heart-rending message, she said: "Six months is such a long time for a little girl to be separated from her family."

At tonight's vigil at the Anglican church of St Mary and St John in Rothley the McCanns will be joined by family and friends to say special prayers for Madeleine. The four-hour vigil will start at 6pm, with lead prayers between 9.30pm and 9.45pm - the period in which Madeleine vanished from the family's holiday apartment while her parents were at a tapas bar on May 3