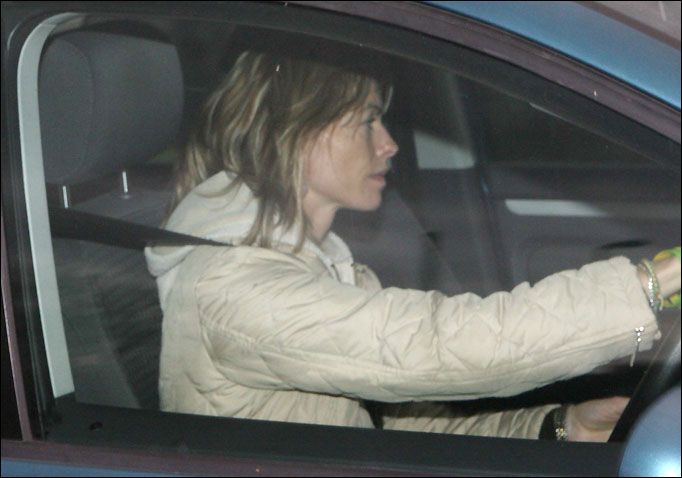 Investigation ... Madeleine's mother Kate McCann drives home yesterday
THE 'Tapas Seven' who dined with the parents of Madeleine McCann on the night she vanished have denied claims they wanted to CHANGE their statements.
Lawyers acting for two of them were said to have contacted Portuguese cops to say their clients wanted to 'correct' their original stories.
Spanish daily newspaper El Mundo said they had asked for their names to be kept secret for fear of 'pressure' from McCann supporters.
The report came after it emerged that four of the friends believe they may be named as suspects.
But the McCanns' spokesman Clarence Mitchell insisted the claim was 'simply untrue'.
He said the couples friends had said they were happy to be reinterviewed by police if it resolved any apparent inconsistencies and hastened the McCanns being cleared.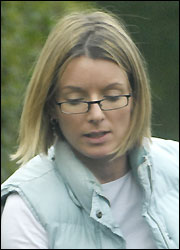 Diner ... Fiona Payne yesterday
Mr Mitchell said: 'I can deny any approach has been made by their lawyers asking to amend the witness statements.
The friends believe if reinterviews take place it can only lead to Gerry and Kate being eliminated from the inquiry swiftly.'
One of the friends, Jane Tanner, dismissed the claims as 'rubbish'.
Detectives are probing a report that Gerry McCann sent 14 text messages during the May 3 dinner.

It is unclear who he was texting so often ' or why.
A Portuguese TV documentary claimed: 'Police forces in England and Portugal will definitely know who Gerry sent so many messages to.'
The seven holidaying with the McCanns' in Praia da Luz were Jane, 37, partner Dr Russell O'Brien, 36, Dr Matthew Oldfield, 37, wife Rachael, 36, David Payne, 41, wife Fiona, 34, and her mother Dianne Webster, 61.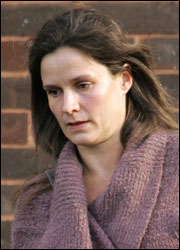 Pal ... Jane Tanner yesterday
Portuguese laws have prevented Gerry, wife Kate and the remaining Tapas Seven from speaking publicly on facts surrounding the case.
But several contradictions have emerged since Maddie went missing.
One is that Jane claimed she saw Maddies kidnapper carrying her away from the apartment in a blanket.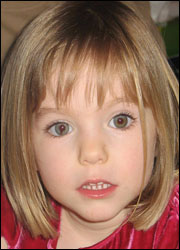 6 months missing ... Maddie
But a British TV producer Jeremy Wilkins ' a holidaymaker who was on the scene ' claims to have seen neither him nor Ms Tanner.

Meanwhile, the other suspect Robert Murat, 33, has contacted Portuguese police asking to be reinterviewed ' a week before he could have his status as arguido lifted.
His lawyer Francisco Pagarete said: 'He is very frustrated because he is still an arguido more than six months after the childs
disappearance and they have still made no concrete accusation
against him.' Suspects can apply to have their status lifted after six months, but it can be extended for up to a year.