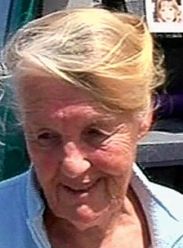 MISSING: Madeleine McCann
JENNY MURAT
THE key witness in the missing Madeleine McCann case was in hiding last night after fleeing Portugal.

Police have sworn the waiter to secrecy over his vital testimony and know where he is. But friends say he is terrified his identity is about to be revealed and that he will come under pressure from rival factions in the case. He is scared of British and Portuguese government influence in the probe. Friends claim he is also wary of the team of private eyes hired by Kate and Gerry McCann to help find their daughter.
The mother of expat British estate agent Robert Murat ' the only other suspect in the case ' has accused investigators of bribing witnesses into changing their stories. The tapas bar waiter ' described by police as their 'trump card' ' has given what detectives believe is the most reliable account of what happened the night the four-year-old vanished. They have questioned him three times, most recently last week. Officers say his story can prove Madeleine's parents are lying over her disappearance.

Many of the 100 questions officers want to ask the McCann's and their holiday friends ' the so-called Tapas Nine ' are thought to be based on his information.
But, according to former colleagues at the Ocean Club resort in Praia da Luz, the knowledge he is playing such a vital role in the case that has gripped the world has horrified him. One said: 'He does not want to be involved in any of this. He was just a restaurant worker. His only problem was remembering food orders. He's terrified." The waiter was the only resort worker to see Kate, 39, raise the alarm after apparently discovering her daughter missing just after 10pm on May 3. She insisted she ran into the tapas bar where her husband Gerry, 39, and their friends were eating and screamed: 'Madeleine's gone. Madeleine's gone.'



But the waiter is understood to have told police Kate raised the alarm from the apartment balcony 75 yards away, screaming: 'They've taken her. They've taken her.' Detectives want to know why she assumed so quickly her daughter had been abducted ' and not simply wandered off to look for her parents. Police value the waiter's account because they cannot understand why ' if Kate thought Madeleine had been snatched while unattended ' she would then leave her twins Sean and Amelie in the apartment to run back to the tapas bar.