NOBODY will EVER stand trial over missing Madeleine McCann because cops made so many vital blunders, Portugals top forensic expert has warned.
Jose Anes, 62, blasted police procedures and said: 'Mistakes in the early hours demolished the entire case.'

The ex-director of Lisbons police lab highlighted the failure to seal off the McCanns'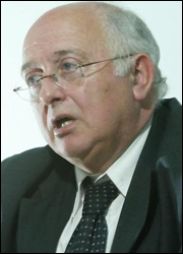 Warning ... Jose Anes
holiday apartment after Maddie was reported missing on May 3. A series of blunders meant crucial evidence was lost forever.
Remaining evidence was contaminated and made worthless. Mr Anes said: 'If the scene is not preserved in the first hours, all the hours of effort that follow are useless.
'I am utterly convinced ' unless some new, concrete evidence suddenly emerges ' the case will never reach trial.'
He warned that even if it did go to court, a defence lawyer could easily get it thrown out because of doubts over contaminated evidence.
Kate and Gerry McCann were said to be 'alarmed' by Mr Anes' claims. Meanwhile, it has emerged that a waiter seen as a key witness in the Maddie probe has fled Portugal and gone into hiding.
Pals say he is terrified at being under so much pressure.
He is said to have told officers that Kate McCann, 39, did NOT run into his tapas bar screaming: 'Madeleines gone.' Instead he says she yelled from her apartment balcony 75 yards away: 'They've taken her.'