The "Tapas Nine" who were dining together when Madeleine McCann disappeared have met for the first time since that night.

Kate and Gerry McCann held a secret meeting with their holiday friends to "talk tactics" as Portuguese police prepared to fly to Britain for a new interrogation of the group, it has emerged.
In addition, they have been in constant e-mail and telephone contact since Madeleine vanished seven months ago.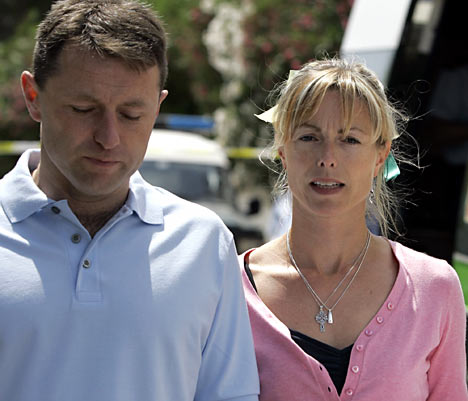 Summit: Kate and Gerry McCann met the friends they were on holiday with
in a deeply sad reunion in Leicestershire
The meeting was at a hotel near the couple's home in Rothley, Leicestershire, last month.
It was said to be a chance to "show solidarity" as the nine faced the prospect of being re-interviewed about the four-year-old's disappearance from the Algarve resort of Praia da Luz on May 3.
But the meeting infuriated Portuguese detectives who are convinced there are inconsistencies in their accounts of what happened.
A source close to the Portuguese inquiry said the secret summit was viewed with deep suspicion by detectives investigating the disappearance.
He said: "The McCanns left Portugal the moment they were made suspects and refused to answer many key questions.
"Now they and their friends are about to be re-interviewed and it is revealed they have met up in secret in a hotel.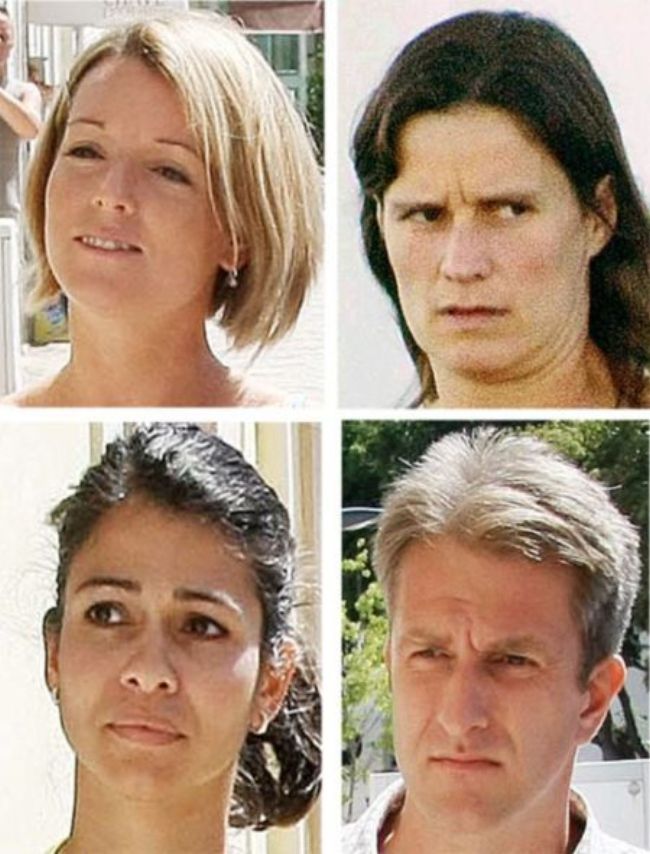 Friends: Fiona Payne, Jane Tanner, Russell O' Brien, Rachael Oldfield meet with McCanns for first time since Madeleine went missing
The McCanns are suspects and their friends are witnesses. They should not be discussing the case and certainly not the evidence."
Detectives believe the new round of questioning is their last hope of cracking the case after forensic evidence proved inconclusive.
They believe there are contradictions in the statements of the McCanns and their seven friends - Russell O'Brien, his partner Jane Tanner, David and Fiona Payne and her mother Dianne Webster, and Matthew and Rachael Oldfield - which will prove "fundamental" to the inquiry.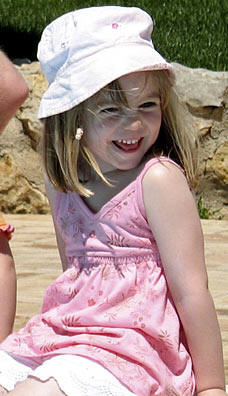 Madeleine: Pictured on May 3, the
day she disappeared
It has been claimed that the group have rowed with the McCanns as some wanted to change their police witness statements.
But yesterday a close friend of the McCanns dismissed any suggestion of an argument.
On the meeting, he said: "It was a show of solidarity under police claims that one or two had wanted to change their stories. This is just not the case.
"It was the first time that the group had collectively met since Madeleine's disappearance. Of course it was emotional and deeply sad for all involved.
"It was an opportunity for the group to discuss the events of the summer and to talk about what may happen next.
"They wanted to talk about possibly being interviewed by police again and what that may entail."
The McCanns and their friends have always denied that they were involved in Madeleine's disappearance or agreed a "pact of silence".
Yesterday the Mc Canns' spokesman Clarence Mitchell said: "It was the first time the group had sat down together since Madeleine's disappearance but they have been in constant email and phone contact."
The new interviews are due to take place at a police station in the UK with Portuguese police being allowed to watch whilst British detectives pose a series of questions.