The purpose of this site is for information and a record of Gerry McCann's Blog Archives. As most people will appreciate GM deleted all past blogs from the official website. Hopefully this Archive will be helpful to anyone who is interested in Justice for Madeleine Beth McCann. Many Thanks, Pamalam
Note: This site does not belong to the McCanns. It belongs to Pamalam. If you wish to contact the McCanns directly, please use the contact/email details campaign@findmadeleine.com
Murat to be cleared soon'
Original Source:

EXPRESS: WEDNESDAY 02 JANUARY 2008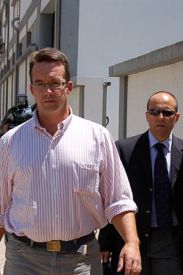 ROBERT MURAT & FRANCISCO PAGARETTE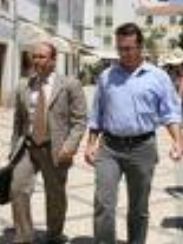 The Daily Express reports that Robert Murat could be cleared tomorrow, as the investigation reaches a crucial deadline, police files on the case are finally set to be released.

Last night Murat's lawyer, Francisco Pagarette, claimed that detectives now believe he is innocent and are preparing to lift his arguido status tomorrow ' exactly eight months after Madeleine vanished.

If they fail to clear him then, under Portuguese law, they must charge him or reveal what evidence they have against the 34-year-old father of one. Murat, who was declared an official suspect on May 14, is desperate to have the cloud of suspicion hanging over him removed, claiming his life has been destroyed by false allegations.

Mr Pagarette said: "After eight months that is the end of the inquiry, so a suspect must be accused or advised of the suspicions against them. The public prosecutor either accuses him or they don't. And that is what I am hoping will happen."

He added: "We have not had any communication from the police since August. Obviously they have already cleared Robert, it is just a question of the deadline." Theoretically, Madeleines parents Kate and Gerry, the only other arguidos, should also be charged, released or told what evidence exists against them tomorrow.

But it is believed the prosecutor has already granted an extension allowing a further period of secrecy for the investigation because of the "special complexity" of the case. Detectives are also due to re-interview Kate and Gerry in Britain and do not wish to make any decision about their status until that process is complete.

TO HELP KEEP THIS SITE ON LINE CONSIDER