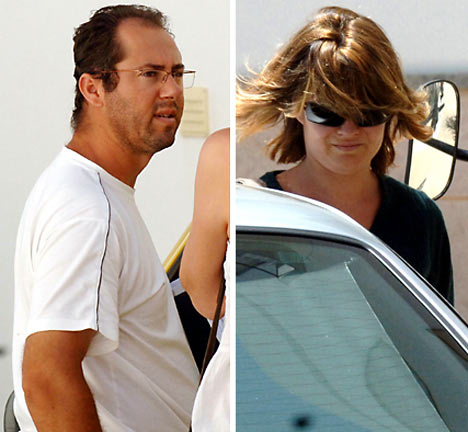 Luis Antonio Michaela Walczuch
DETECTIVES investigating the disappearance of Madeleine McCann are re-interviewing key witnesses in a final bid to crack the case. Five staff members who were at the Ocean Club complex on the night she went missing have been quizzed in recent days as pressure mounts to conclude the investigation. Among those interviewed was the estranged husband of Robert Murats girlfriend Michaela Walczuch. Luis Antonio, a pool cleaner, worked at the resort last summer.

In a fresh development, three members of the so-called Tapas Nine, who were at dinner with Kate and Gerry McCann on the evening of May 3 when Madeleine vanished, are also likely to be questioned. The burst of activity comes just days after Portugals justice minister Alberto Costa said the case was almost at an end. It is understood the Polícia Judiciaria are preparing to shelve the nine-month inquiry. But the head of the investigation, Paulo Rebelo, has demanded that certain key statements are double checked.

Antonio, 37, who still lives with his wife, despite her being the girlfriend of British suspect Robert Murat, was first interviewed last May, just weeks after Madeleine went missing. A police source told the Portuguese newspaper 24 Horas that the fresh round of interviews was intended to unearth any tiny details missed initially.

The source said: ''Several police interviews have been repeated and the statements are being analysed to try to find any lead that could result in a new line of investigation.?

Portuguese detectives are also expected to travel to Leicestershire to oversee interviews of three of the McCanns holiday friends ? Russell O'Brien, Jane Tanner and David Payne. Formal letters requesting the interviews have now been received by the Home Office and will be handed to Leicestershire Police next week. They want to clear up alleged inconsistencies in their original statements.