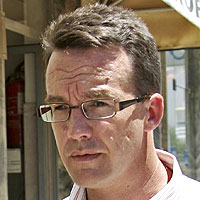 Robert Murat (Pic:DM)
Madeleine McCann suspect Robert Murat has discovered tracking devices fitted to his cars.
British expat Murat, 33, found the GPS bug when he was fixing a fault on his VW Transporter.
He checked girlfriend Michaela Walczuch's motor and found - another stuck to that.

Furious Murat believes Portuguese police bugged his cars in a desperate bid to nail him for the abduction of Madeleine, four, from Praia da Luz in May.
He is also probing whether Kate and Gerry McCann's private detective agency Metodo 3 could have done it on its own initiative.
His lawyer Francisco Pagarete said last night: "I'm not yet sure what kind of crime we're dealing with here

Police have removed the trackers from the VW and his Skoda Fabia which Murat had loaned to Michaela, 34. Officers insist they are not responsible but police did impound Murat's cars for two days last August for forensic tests.
Meanwhile Murat's property website has been taken down after its email account was hacked into and bogus messages sent.

It also emerged yesterday that lawyer Marcos Correia only dragged a reservoir looking for Madeleine because he had dreamed she was dumped there.
The McCanns faced fresh agony last week after his divers found a bag of animal bones which he then claimed could be a child's fingers. A source said yesterday: "When we asked him what he was basing his evidence on, he said, 'I had a dream'."
Clarence Mitchell, spokesman for the McCanns, said: "Wild assumptions do not help the investigation."