3 MAY - 14 MAY 2007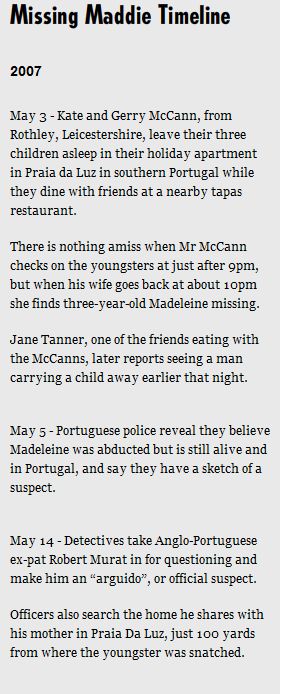 25 MAY-7 SEP 2007

9 SEP- 19 NOV 2007

13 FEB - 10 APRIL 2008

10 APRIL - 1 JULY 2008

PORTUGUESE police have denied that they are closing the investigation into Madeleine McCann's disappearance for lack of evidence.
It was claimed earlier that cops were preparing to 'shelve' the case ending the search for the five-year-old and possibly
leaving her parents Kate and Gerry living under a cloud of suspicion forever.
But Portugal's attorney-general said officials have not yet decided if their investigation is over.
Fernando Pinto Monteiro said police have handed over their final report into Maddie's disappearance.
However, Monteiro added in a statement that prosecutors will examine the police report before deciding whether to end the investigation or undertake further inquiries.
A friend of Kate and Gerry, who are arguidos - official suspects - in their daughter's disappearance, earlier described the claims of shelving the case as 'probably the worst case scenario' adding: "It is what Kate and Gerry have always feared. That police would simply wrap the case up saying they couldn't do anymore without clearing Madeleine's parents of any involvement.
"It means nothing further will be done to find Madeleine, or the person who took her, and Kate and Gerry will forever have to live with fingers being pointed at them."
Official suspect Robert Murat also today said he did not want the investigation to end, adding: "I want Madeleine McCann found as much as anyone else."
Ex-pat Brit Murat lives near the apartment from where Maddie went missing.
His lawyer Francisco Pagarete said yesterday he knew nothing of the latest developments in the Madeleine McCann case.
He said: "We haven't been contacted by anyone in the police for more than three months. Robert is calm."

According to reports in Portugal cops have not been able to find any substantial evidence which shows conclusively what happened to Madeleine on the night she disappeared from a holiday complex in Praia da Luz on May 3rd last year.
Portuguese newspaper Expresso claimed police chief Paulo Rebelo who is heading the investigation has already closed the case.
Yesterday, the McCanns' spokesman Clarence Mitchell said if that was true then the couple should now be cleared of being official suspects.
He said: "If this report is true it is not before time. Kate and Gerry have suffered long enough in this process.
"It is now only right for the Portuguese police to recognise that they are not involved in their daughter's disappearance.
"Police should lift their arguido status and should pass their information over to our investigators who continue to work on the case.
"We still need to find Madeleine"
He added: "They are entirely innocent of any involvement in the disappearance of Madeleine."
Mr Mitchell said that Kate and Gerry's greatest fear was that the search for Madeleine, who they firmly believe is still alive, will now stop, if it hasn't already.

Speaking about the Portuguese police Mr Mitchell said: "We would hope they continue to search for Madeleine. If they are to shelve the case they should make available any information they have in their files to our investigators so that they can continue the search.
"We haven't got Madeleine back yet. We don't want all that information sitting on a shelf gathering dust.
"If they are to clear Gerry and Kate of any involvement in Madeleine's disappearance, which is right because they are completely innocent, then we would hope that they continue to keep looking for a girl who went missing in their country."
Gerry and Kate announced recently they would ask a High Court judge to order the release of police files on her disappearance.
Police in their home county of Leicestershire, who lead the British arm of the official investigation, have so far stuck to an agreement with their Portuguese counterparts not to disclose information on the inquiry.
The McCanns plan to make their application to Mrs Justice Hogg in the Family Division of the High Court on July 7.
Spanish-based private investigation firm, Metodo 3, are being paid £50,000 a month to search for Maddie.
She went missing while her parents were dining at a Tapas bar in the holiday complex just a few hundred yards away from their apartment. Maddie had been left alone in the flat with her then two-year-old twin brother and sister, Sean and Amelie.
Her parents believe Maddie was abducted by a man who was seen hurrying away from the apartment with a child in his arms.
But within days of her going missing Portuguese police's suspicions fell on her parents who they claimed had accidentally killed her and hid her body.

Kate and Gerry, from Rothley, Leics, were made official suspects last September. Cops claimed Madeleine's DNA had been found in a hire car they believed her parents had used to transport her body.
They also claimed her blood had been found in the holiday apartment. But forensic investigation of the blood and DNA evidence by British experts is believed to have proved inconclusive.
In April, Portuguese cops, headed by Rebelo, flew to Britain to quiz the Tapas Seven - the friends the McCanns were dining with on the night Maddie disappeared.
Yesterday Portuguese channel 4 news, TVI, claimed a police source had told them that cops had been unable to ascertain whether Madeleine was the victim of an abduction or manslaughter.
The police final report is due handed to Portimao's prosecutor in charge of the case in the next few days and he is expected to give his ruling.
If the prosecutor rules the case closed, it can be reopened at any time if new evidence comes to light. Until then it will be 'archived' - effectively shelved.
Portuguese newspaper Journal da Noticias reported a police source as saying: "Police will continue to be attentive to any new information that arises once the case has been archived as happens with other missing children.
"But the Madeleine McCann case can only be reopened if an important piece of evidence comes to light."
The prosecutor has the power to lift Kate and Gerry's 'arguido' status but if he doesn't they can apply to a court to have it removed themselves.
The McCanns' Portuguese lawyer Carlos Pinto de Abreu said he will continue to demand the police case files are handed over to them saying: "I want to be in a position to do what the McCanns always wanted, which is to assure themselves the investigation was properly conducted and continue to look for their daughter."
The McCanns are expected to learn their fate officially after the judicial secrecy surrounding the Madeleine McCann case is lifted on September 15.