THIS is the first picture of the
Tapas 7
seen together at a beach bar just hours before Maddie was snatched.
They were captured on CCTV having drinks before making the 10-minute walk to the restaurant where they met the McCanns.
The digital time on the film is 5.59pm'about the time Gerry and Kate were picking Maddie up from kids club to get her ready for bed.
Among those shown are Dr Matthew Oldfield who would check on the McCann children at 9.30pm but crucially not see Madeleine. Dr David Payne, 41, the last person other than the McCanns to see the youngster alive, is also relaxing with a drink.

Jane Tanner, 38, is there too' the crucial witness who would later say she saw a man carry a child from the McCann's apartment at 9.15pm'45 minutes before Kate raised the alarm. Shortly after this image was captured they would all head off for an evening that will haunt them all for the rest of their lives.
We reveal two new suspects

TODAY we reveal TWO MORE e-fits of suspects Portuguese cops refused to publicise during their investigation.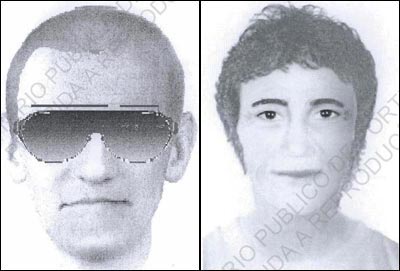 SHADY: In glasses, and man spotted near the scene
Both the men above were seen acting suspiciously in the area around the McCann apartment before the kidnap. The one on the right approached holidaymaker Iris Morgan asking for money to help 'young boys and girls'. The man in sunglasses was also seen nearby by an unnamed witness. These new images emerged from the case files after two other e-fits of suspects were released last week.