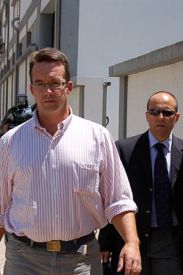 ROBERT MURAT
POOR Madeleine McCann is back as headline news, and the agony for her parents must still be unimaginable.
But is all this new publicity really any good for Madeleine herself if there is any hope of miraculously finding her alive? To be perfectly honest, I almost feel ashamed now of the way we all kept her story on the front pages for so long last summer, and wonder if this too was really in the little girl's best interests.
Newspapers were selling spectacularly well as we all thrived on the titbits fed to us every day. It mattered nothing that a lot of these turned out to be untruths, we wanted to read them anyway. Television news was also forced ? by us ? to keep Maddie's name alive. We searched news internet sites for her name so in order to keep the viewers happy she was constantly kept in the daily running orders.
Recently-released Portuguese police files show they maybe didn't react in the way they should have, and Kate McCann's poignant letter to them begging for some information was truly heartbreaking, but did the bad press that the police got from day one in the newspapers really help? Did all the criticisms make them want to believe that Madeleine's parents were to blame so that they could throw the whole sad affair back in our faces?
You could hardly blame them for feeling aggrieved at the arrogance of the English press.
Robert Murat has been well compensated for the terrible untruths that were printed about him. He deserves every penny for the indignities he had to suffer just because he went out of his way to try to help the McCann's. What message does this give the rest of us?
If someone's in trouble don't offer to help, it could land you in serious trouble.
You may remember that it was a member of the British press who pointed the first finger of suspicion at him because he was trying so hard to be helpful. He also has a daughter the same age as Madeleine, and he's estranged from her mum, so he had to be guilty!
But that little girl too is a terrible casualty of the Madeleine story; her suffering must have been appalling.

Kate and Gerry McCann just want Madeleine back, but if the latest round of stories about a Belgian paedophile ring are true and that she may have been snatched to order, then surely all this publicity must be far more dangerous for Madeleine, if she is still alive. I would much prefer now not to read about Madeleine.
Surely it would be better if any inquiries and detective work and searches that needed to be done were done quietly? But our appetite for Madeleine stories is such that anything revealed in these police files is sensationally turned into a new front-page headline.

I hope the little girl is still alive and, if she is, the best thing we could do is to let others get on with trying to find her, and to just forget about her for a while. This, I'm certain, would make any chance she may have of survival greater. To stop reading about Maddie and to forget about her may be the greatest gift we could now give her.