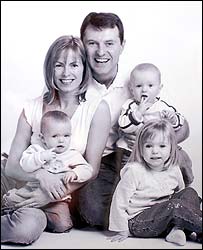 Madeleine McCann, bottom right, with her parents and twin siblings
Police are searching for a 3-year-old British girl who went missing on a family holiday in Portugal last night and may have been abducted.
Madeleine McCann disappeared from her family's hotel room at the Ocean Club in Praia da Luz, in the Algarve, while her parents were eating tapas just 50 metres away.
According to friends and relatives, her mother, Kate McCann, came back to check on her three children and found Madeleine's 18-month-old brother and sister asleep in cots on either side of her empty bed. The window had been forced open and the door left ajar.
"They were all sound asleep, windows shut, shutters shut," said Trish Cameron, Madeleine's aunt. "Kate went back at 10pm to check, the front door was lying open, the window had been tampered with, the shutters had been jammied open, and Madeleine was missing."
"It looks as if somebody has come in the window, that's either been watching or they've targeted her."
The McCanns, from Rothley, Leicestershire, are on holiday with eight other couples and their young children. Madeleine, described by Ms Cameron, as an "absolutely gorgeous, wee girl", is almost four and due to start school in September.
"Everybody has been praying all night," Ms Cameron told BBC News 24. "Everybody's just... We can't believe this has happened."
John Hill, the manager at the British-run Mark Warner resort, said Madeleine's parents and twin siblings were distraught and that sniffer dogs had been brought in to comb the resort, while border police in Portugal and Spain had been alerted to her disappearance.
He denied reports that the windows to the apartment had been forced open, while another spokesman said a set of French windows had been left unlocked.
"It was a very emotional and very frantic night and everyone did a fantastic job of getting involved and trying to search the area," said Mr Hill, who added that residents of the Portuguese village joined hotel guests and staff to trawl along the beach and local roads, looking for signs of the girl.
"As you can imagine, Madeleine's parents are distraught and not doing very well at all."
Mr Hill said there was no physical evidence as yet that the girl had been abducted and that the staff at the Ocean Club, a holiday resort of villa-style rooms, boutiques and restaurants, were still hoping to find her nearby.
"It's still questionable as to whether it's an abduction," he said. "We are hoping that Madeleine is found as soon as possible and safe and well. Everybody here is just wishing that she is found as soon as possible."
The Foreign and Commonwealth Office said that the alarm had been raised immediately by the girl's parents and that the British Consul in Portimao, Bill Henderson, had gone to the resort to offer what support he could.
A spokesman for Mark Warner, which has run the Ocean Club for two years, said that a drop-in creche was available to look after children while parents ate their dinner between 7 and 11.30pm at the resort but that Mrs McCann and her husband, Gerry, chose not to use it. Instead they ate very close to their room and went back to check on their children every half an hour.
The spokesman said that the holiday company was willing to fly out members of the McCann family to help with the search.
"Our priority is to find the girl and to make sure that the parents are OK and there are masses of people working on that," he said. "Our staff are looking after them at the moment in whatever way they can but we can only imagine how awful it is for them. We are all hoping that she is asleep under a bush somewhere and we will find her soon."
The spokesman said that apartment the family were staying in was surrounded by other villas, all of which have "quite sophisticated" locks on the doors. Guests are being asked if they saw anyone acting suspiciously in the area, he said, adding that Mark Warner, which has a reputation for running family-friendly holidays, has never had cases of missing or abducted children before.
"We are hoping it's not that, though," he said. "It's the last thing we want but we have to investigate all avenues."
Neighbours in Leicestershire, where Mr McCann works as a cardiologist and his wife is also believed to be a doctor, described the family as "delightful".
"We are absolutely devastated. They are a really nice family and good neighbours," said Penny Noble. "They are delightful. We see them take their bikes up and down and going for walks. Madeleine is a very happy-go-lucky little girl."
Tracey Horsfield, a nurse, said: "They seem a really lovely family, protective of their children. I see them going up and down the crescent. They are a protective family who idolise their kids. I am hoping and praying that she has not been abducted and that she has wandered off. They would not let her out of their sight."