The message from the parents of snatched holiday toddler Madeleine McCann was written on white card and tied to a pink balloon that soared high into a pale blue sky.
It read simply: "Mummy and Daddy, Sean and Amelie will see you soon."
Simple and unfussy but determined and hope-filled, it echoed sentiments expressed earlier yesterday - Madeleine's fourth birthday - when distraught Kate and Gerry McCann made another appeal for the safe return of their daughter.
Scroll down for more...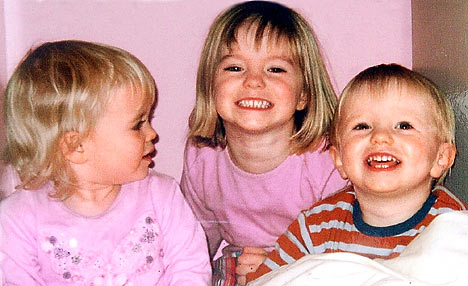 Madeleine smiling with twins Amelie and Sean
The couple, both 38, said in a statement: "Today is our daughter Madeleine's fourth birthday. We would like to mark today by asking people to redouble their efforts to help find Madeleine.
"We know that there is already a huge amount of effort and resource being put into the search for our daughter.
"We also know that offers of support are being made daily. It is this that keeps us strong and gives us hope. On Madeleine's birthday, please keep looking, please keep praying, please help bring Madeleine home."
The balloon - released by Madeleine's great-uncle Brian Kennedy - was one of 40 that filled the sky around the McCanns' former home in Queniborough, Leicestershire, not far from where they now live in the village of Rothley.
In Portugal, where Madeleine was snatched ten days ago from a Mark Warner resort at Praia da Luz, her parents retreated to a private villa to spend time with their two-year-old twins Sean and Amelie. They had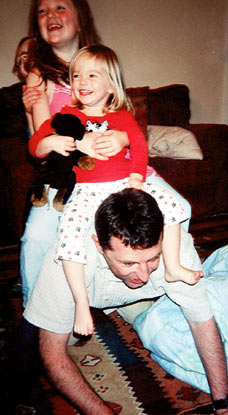 Family fun: Madeleine enjoying some horseplay with father Gerry and
cousin Fiona
been staying 100 yards from the holiday apartment where their daughter was kidnapped.
They have bought Madeleine a green doll for her birthday - the colour symbolises a hopeful return in Portugal - and still behave as if she is with them, a close friend of GP Kate said yesterday after spending a week with the family.
Fitness instructor Nicola Gill, 38, also revealed how Sean and Amelie blow kisses and hugs when they see their sister's picture on television.
And attempting to keep things as normal as possible for the twins, the McCanns buy an extra ice cream for Madeleine when they go out.
Scroll down for more...
Mother-of-three Nicola said after returning to Liverpool: "The twins are old enough to sense there is something going on.
"They knew it was Madeleine's birthday today. They often ask where Madeleine is. We keep saying her name and when we buy ice creams we buy one for Madeleine."
Of the couple, she said: "Today was their hardest. They are not coming home unless Maddy is with them."
The McCanns believe Madeleine's distinctive right eye - where her pupil merges into the blue-green iris - will be vital in getting her back.
It can be clearly seen on an appeal poster and

Mrs McCann said: "We want to make the most of it, because we know her hair could potentially be cut or dyed."
The couple spent the hours before Maddy's birthday at a late-night vigil in the church of Nossa Senhora Da Luz, joined by more than 300 others.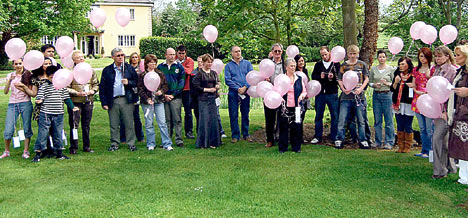 Poignant: Villagers near the McCann's former home release 40 pink balloons yesterday to mark the birthday of Madeleine
Sources close to police claim they are on the track of Madeleine's abductors. The McCanns are understood to have viewed CCTV footage of two men and a woman seen with a blonde girl who looked like Madeleine near a petrol station.