The purpose of this site is for information and a record of Gerry McCann's Blog Archives. As most people will appreciate GM deleted all past blogs from the official website. Hopefully this Archive will be helpful to anyone who is interested in Justice for Madeleine Beth McCann. Many Thanks, Pamalam
Original Source:

MAIL: 20 MAY 2007

20th May 2007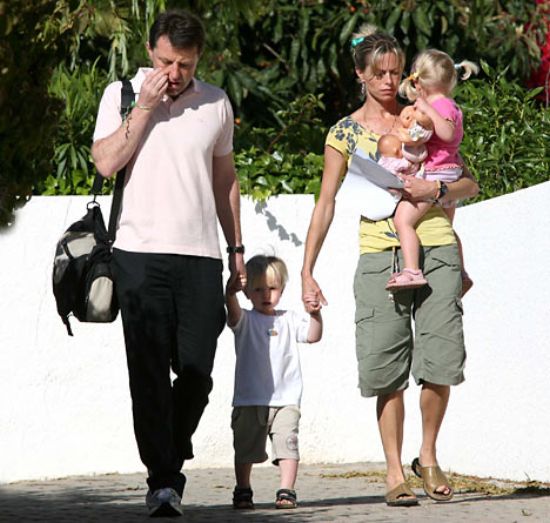 Gerry and Kate McCann may travel all around Europe to publicise the mission to find Madeleine
The parents of missing Madeleine McCann may consider an around-Europe mission to publicise the campaign to find their daughter, a family spokeswoman has said.

Kate and Gerry McCann are "looking at everything" they can do to assist the operation to locate Madeleine - including travelling across Europe to meet people who can help.

It is 17 days since Madeleine was abducted as she slept in her bed in her parents' holiday apartment in the seaside village of Praia Da Luz, southern Portugal.

The McCann family spokeswoman in Portugal said today: "There is no co-ordinated programme yet, but they are looking at everything really, and they are taking advice on what is right.

"But if it means going around Europe to meet people, talk to people, then they will do that."

She added: "We haven't sat down and done any plan, but it's where their thoughts are going at the moment."

Meanwhile Mr and Mrs McCann have allowed a glimpse of how they are trying to maintain a sense of normality while the search for their daughter goes on.

New photographs of the couple smiling as they play with their two-year-old twins Sean and Amelie give an insight into how the family is coping.

Mr and Mrs McCann yesterday allowed a photographer to take pictures of them eating lunch and reading books with the twins in the flat they have moved to.

As has become customary, Mrs McCann has yellow and green ribbons tied in her hair to symbolise hope for her daughter's safe return.

Gerry is also wearing a green and yellow wristband, and Amelie has her hair tied in bunches with a green clip and a yellow band.

It was claimed yesterday that the sheer scale of the cash rewards being offered to find Madeleine could be hampering the investigation.

More than £2.5 million has been offered by well-wishers in a bid to boost the campaign to find Madeleine.

While detectives are desperate for news of the missing girl from Rothley, Leicestershire, and welcome anything which helps produce new leads, some are said to fear that resources are being distracted by false sightings of Madeleine motivated by money.

Portugal's Policia Judiciaria (PJ) has had calls reporting possible sightings of the four-year-old pouring in from across Europe and even North Africa.

In Europe it is understood investigations have been extended beyond Portugal.

Details emerged on Friday of a sighting of a young girl matching Madeleine's description in Morocco last week.

Marie Olli, a Norwegian woman who lives in Fuengirola on the Costa del Sol and once lived in Leicestershire, said she was "very sure" she saw the missing girl in Marrakech on May 9.

While stopped at a petrol station she saw a "sad" young blonde girl who initially appeared to be standing on her own.

She asked a man: "Can I see mummy soon?"

Anglo-Portuguese man Robert Murat, 33, who used to live with his ex-wife in Hockering, Norfolk, was this week named as the first "arguido" or suspect in her disappearance.

Mr Murat's home in Praia Da Luz, just yards from the spot where Madeleine was abducted, has been the centre of intense police activity.

Mr Murat has told police he was at home with his mother on the night Madeleine went missing and strenuously denies any involvement in her abduction.

Although police say they do not have enough evidence to charge or even formally arrest Mr Murat, he is the first person they have formally classed as a suspect.

Around 90 million people around the world have expressed their support for Madeleine's family by visiting their official website,
www.findmadeleine.com
.


Madeleine's father will fly back to Britain tonight for a short visit to meet organisers of the family's campaign to find her, a spokeswoman has said.

She said Mr and Mrs McCann were taking strength from the "enormous support" they have received.