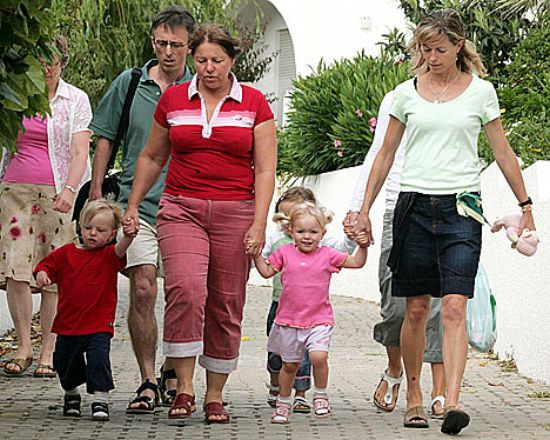 Kate McCann, the twins and friends take a stroll in Portugal
Portuguese police have dramatically scaled back the hunt for missing Madeleine McCann and have now admitted they fear the worst.

The four-year-old's distraught parents are now considering the possibility of hiring a team of private detectives to continue the search.

The number of officers involved in the hunt has been slashed from 200 to just 50 as the investigation enters its 18th day.

Police sources close to the case said they were becoming increasingly pessimistic as to whether the four-year-old would be found alive.

An "unoffical" minute's silence to remember Madeleine and pray for her safe return was also held today after a chain email circulated through Portugal calling for a "minute of hope".

British police today appealed for holidaymakers who visited the Portuguese resort where Madeleine McCann was abducted to send them any digital photographs taken in the two weeks before she went missing in a bid to identify her abductor.

According to reports in a Portuguese newspaper, the source said: "There are strong suspicions we are dealing with a sexual predator. As a rule these individuals abuse their victims, kill them and get rid of the bodies.

"What we want is to find the girl safe and sound, but it is true as time goes by this hope is becoming less likely."

Forensic scientists have found no evidence to suggest Madeleine's room at the Praia de Luz resort was broken into, the source said.

There were also no fingerprints other than those of the family and no sign of a struggle. The source added: "These are preliminary results and further tests may bring new clues.

"It is painful to say this, but we must be realistic the chances of finding her alive are getting less and less.

"All the publicity in the media may have made the kidnapper get rid of his victim and any clues."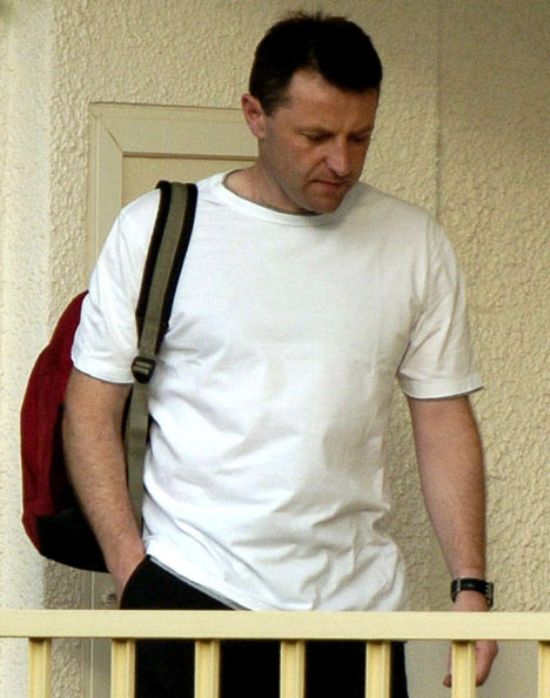 Daddy's dash: Gerry McCann leaves Portugal for England

Detectives today said they want to quiz a cousin of prime suspect Robert Murat.

Police sources said they were "very eager" to talk to Genaro Acosta Gonzalez, an estate agent working in Spain.

The development came as Maddy's father, consultant cardiologist Gerry McCann, arrived back in Britain.

Mr McCann told friends of the "incredible difficulty" of going home for the first time without four-year-old Madeleine.

A spokeswoman for Mr McCann and his wife, Kate told the Times they were keeping an open mind about the use of private detectives, "but have said they will use whatever means necessary to bring back Madeleine".

According to reports, Mr McCann believes private detectives could discover clues the Portuguese police have been unable to uncover.

He will also meet trustees of the fund set up to support the worldwide search for his daughter.

Mr McCann's brother John, one of several trustees involved in the fund, said: "Kate and Gerry are incredibly brave. They are both determined to do whatever they have to to bring their daughter back.

"They are not giving up hope yet. Until there is concrete evidence that Madeleine is not safe and well, we have to believe that she will come home soon." Mr McCann is expected to return to the Algarve tomorrow morning. One friend said: "Gerry is focused on staying in Portugal until Madeleine is found. This does not mark a transition to the family coming back to the UK without her."