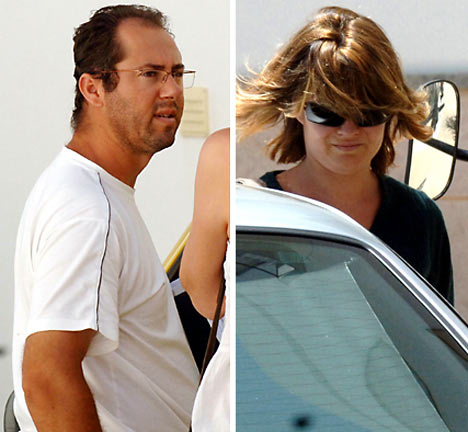 Michaela Wulczuch and her estranged Portuguese husband Luis Antonio

MADDY suspect Robert Murat has spoken for the first time since he was questioned by Portuguese police and claimed: "I'm a scapegoat."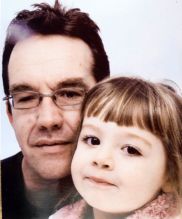 Robert Murat &
Daughter Sophie
Former property developer Robert Murat spoke out as the missing four-year-olds family, friends and colleagues launched a fund, http://www.findmadeleine.com, to help pay for the rising costs of the search.

"This fund will be a vehicle to help our family get our darling wee niece back," the girls uncle John McCann told a news conference.

Former England rugby union captain Martin Johnson lent his support, saying: "As a parent, as a father, it really does hit home."

Mr Murat, who was quizzed by detectives for 12 hours about Madeleine - who was snatched from her bed 13 days ago - said: ?This has ruined my life and has made things very difficult for my family here and in Britain.

?The only way I will survive this is if they catch Madeleines abductor.

?I have been made a scapegoat for something I did not do.?

His outburst came as Prime Minister Gordon Brown has offered "practical help" in the search for Madeleine.

The offer was disclosed by Madeline's aunt, Philomena McCann, as she visited Westminster today to lobby MPs for their support.

Mrs McCann, who is from Glasgow, and other family members are due to meet John Prescott, the Deputy Prime Minister, almost two weeks after her disappearance.

Standing in for Tony Blair at Prime Minister's Questions today, Mr Prescott said: "I'm sure that the thoughts of the whole House will be with them at this terrible time."

Shadow foreign secretary William Hague said: ?May I echo what you've said about Madeleine McCann and her family - and their terrible worries at this time.

?In all parts of this House and throughout the nation, people will be praying for the safe return of this little girl.?

Many MPs wore yellow ribbons that have become a symbol of hope for the missing four-year-old.

Portuguese police said yesterday they did not have enough evidence to formally arrest or charge Murat.

A one-eyed estate agent, former car salesman and turkey farm worker, Murat is a well-known figure among the British expat community in the Algarve.

But following a search of Murat?s home just 100 yards from where Madeleine was snatched, Portuguese media reported how computers were seized which were said to contain images of ?sexual violence? from paedophile websites.

It also emerged that Murat was caught up in a bizarre love triangle involving his girlfriend Michaela Wulczuch and her estranged Portuguese husband Luis Antonio. The three lived in a cramped flat with Michaela and Luis Antonios eight-year-old daughter.

Murats affair with Ms Wulczuch was said to be one of the reasons behind his ?subsequent divorce from wife Dawn.
Ms Wulczuch still lives with her estranged husband and their daughter.

And yesterday it emerged that Ms Wulczuch and her husband, a pool maintenance man, have been questioned over Maddys disappearance.

Over the past six months, the three adults and Ms Wulczuchs daughter have often shared the same cramped apartment in nearby Lagos. Friends say Murat and Ms Wulczuch are lovers.

The flat was also examined by forensic teams on Monday, when police searched the apartment in Praia da Luz where Murat lives with his mother.

Murat worked for estate agents Remax and Portuguese Homes. He and Ms Wulczuch started their own company called Romigen Property.

Veronica Fennell, 46, who worked with Murat and Ms Wulczuch at Remax, said: ?Robert was always a bit of a ?try-hard? ? he wanted to be the focus of attention.

?We had coffee together on Sunday. He told me he had been working as a translator for the police and had signed a secrecy agreement.

?The subject of Madeleine came up and we discussed the various theories. Robert has not been around Praia da Luz much recently but he does pop back to see his mother quite a lot. He has had several business ventures which have not come to much.

?He is not much of an estate agent or even translator. When we needed things translated at Remax I used to do it and not Robert because I'm not sure he was up to scratch. Thats what surprised me about him saying he was a police translator.?

She added: ?Michaela lives with Luis Antonio and their eight-year-old daughter. But I think they are just staying together for the sake of the child.

?Everyone knows Robert and Michaela are together. It is unspoken, unofficial, but widely known. They met at work in about March 2005 and have been seeing each other for around 14 months.

?It was obvious at work that they had become more than just friends. They were quite open about it and would spent time together, spend time in a car together and go home together. They were affectionate around others. I never see him around Luis much but they get on fine.?

Jamie Hilario, 39, another Remax colleague, said: ?He was definitely an oddball. But after the separation people became a bit wary of him.

?I don't think anybody thought he would harm anyone but I think maybe people?s perceptions of him changed a little bit.?

As police looking for Madeleine searched five houses yesterday after obtaining search warrants, Murats uncle Ralph Eveleigh insisted the suspect and his mother were together in their villa in Praia da Luz when the four-year-old vanished.

Mr Eveleigh said: ?His mother says that on the night the kid disappeared they were both in the house together all night.

?The first thing he knew was when his sister phoned up and said, ?Have you seen what is happening in Praia da Luz??

?That is definite, from his mother.?

During the searches forensic officers seized material belonging to Murat from at least two of the five houses.

It is believed items were also taken from the home of Michaela Wulczuch after ?officers swooped on the apartment she shares with her husband at 8am on Monday.

Chief Insp Olegario Sousa said the searches followed ?information collection? over the weekend which had strengthened one of the lines of the investigation.

Asked why Murat had been released, Mr Sousa said: ?We are not saying there is no evidence against this man, we are just ?saying there is not enough.?