Defiant: Detective Goncalo Amaral is looking forward to his day in court when he will face layers acting for Kate and Gerry McCann
Kate and Gerry McCann are suing a detective who claims their daughter Madeleine died in an ?accident? at their holiday flat on the night she vanished.

They want to force the pulping of the book The Truth About The Lie, by Goncalo Amaral, who led the police investigation into Madeleine's disappearance in the Portuguese resort of Praia da Luz two years ago.

But a source said the McCanns could be forced to give evidence in court in their action against Mr Amaral ? presenting him with a stage from which to attack the couple.

His publisher, Mario Sena Lopes, said he was ?looking forward? to his day in court.

He is seeking a British publisher for his book after selling 250,000 copies on the Continent, including 175,000 in Portugal.

An English version has already been produced for America.

The McCanns also want to make sure a documentary produced by Mr Amaral for Portuguese TV does not win a wider audience.

Their defamation case, lodged yesterday in Lisbon, alleges that Mr Amaral has damaged their reputation ?causing indescribable devastation and suffering? and put in danger the well-being of their children, twins Sean and Amelie, four, and particularly Madeleine.

Mr Amaral was forced off the inquiry in October 2007 for criticising British police.

He was partly responsible for making the McCanns arguidos, formal suspects, in the case.

His book claims Madeleine, then aged three, died in a ?tragic accident? in the holiday flat on the night she disappeared.

Mr Amaral has never claimed that heart surgeon Gerry and GP Kate, of Rothley, Leicestershire, killed her.

He has reportedly said his only regret was failing to carry out a reconstruction of events soon after Madeleine vanished, but says he was put under ?serious pressure? not to.

The McCanns said they were taking action over Mr Amaral?s claims ?that Madeleine is not only dead but that we, her parents, were somehow involved in concealing her body?.

They said it was ?a disgraceful thesis that we are somehow involved in the disappearance of our much loved daughter Madeleine?.

They added: ?We can no longer stand back and watch Mr Amaral try to convince the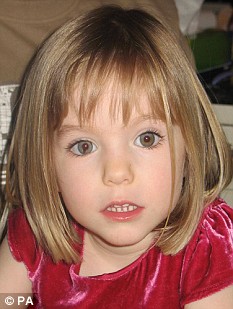 Mystery: Madeleine disappeared two years ago aged just three-years-old
entire world that Madeleine is dead.?