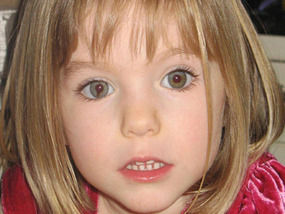 STATEMENTS: Witnesses tell of suspicious behaviour at house and toys in secret video den
Madeleine McCANN may have been taken to a luxury villa just half a mile from where she was abducted, Portuguese detectives were told.

Suspicions were raised because of the behaviour of the people who rented the £1million villa and because video cameras were reportedly seen there along with pictures of children on a wall, the Sunday Express has learned.
Our revelations come as West Yorkshire police prepare to fly to Germany to question 64-year-old convicted paedophile Raymond Hewlett over a sex attack on a girl 25 years ago.

Retired detectives working for Kate and Gerry McCann are also hoping to interview Hewlett to ask him directly whether he knows anything about three-year-old Madeleine's abduction.
Hewlett is in intensive care at a German hospital recovering from an operation for throat cancer. In the last 24 hours his condition has worsened and there are concerns he may have only days to live.
If well enough, it is expected he will be asked if he ever met paedophiles in the Algarve town of Praia da Luz around the time Madeleine vanished.
One theory the McCanns' investigators are examining is whether there was a paedophile ring operating in the area two years ago.
The Sunday Express has been conducting intensive inquiries in the resort town and asked scores of people if they saw anyone acting suspiciously.
One elderly British resident told us both she and a friend, a retired British woman detective, went to Portuguese police about a couple who rented the villa, which has its own swimming pool.

The resident told us: "I used to meet up with the retired detective to walk our dogs down by the seafront. Both of us became concerned about a couple aged about 30 who rented the villa.
"What struck us was that they drove a very tatty, British-registered small red saloon car. It was one those vehicles you would normally see on a gypsy camp, not going in and out of a very expensive villa.
"We only saw them coming and going in the car and not walking about, which is odd given the location of the villa. We both got the impression they were trying to keep a low profile.''
Another source said that after Maddie disappeared, search teams combed the seafront, where luxury villas stand next to large areas of barren land.
Anglican priest Paul Luckman, owner and publisher of Portugal News, said: "The location and description of that villa mentioned by your source fits the one that a searcher told me about.
"The searcher told me the villa was empty and somehow they got inside some weeks after Madeleine disappeared.
"The search dog handler said the villa had a room with a kind of amateur studio with video equipment and cameras with children's toys and pictures of children on the wall.
"He felt it was something to do with paedophiles. He told the police and they seemed to know something about it, but we don't think they took it any further."
The Sunday Express took him to the villa and he confirmed that it fits the description and location of the one he was told about.
Although we know where it is, we are not naming the villa for legal reasons as we have been unable to locate the owner.
The British woman resident said: "I know the owner was contacted after we raised our concerns with the police.

"The person was angry because she said she did not know the people who rented it and was annoyed about being contacted by detectives.

"We heard nothing more about it. The day after Maddie disappeared the couple moved out and we didn't see them again.
"There was an older woman in a very expensive car who visited them during their stay."
The McCanns' private investigators have been conducting surveillance on several properties for some time. Retired det­ective inspector Dave Edgar returned from Portugal on Friday night and is pursuing a number of leads he is not prepared to discuss.
Meanwhile, paedophile Hewlett is said to be suffering internal bleeding.

A doctor at the Aachen hospital where he is being treated said: "He is very poorly. Fluid has been seeping into his lungs. He cannot speak. The next few days will be critical."