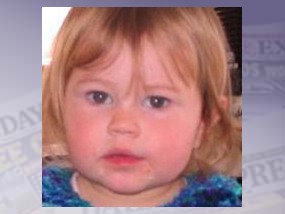 Two-year-old Aisling Symes, who disappeared in Auckland, New Zealand
A New Zealand couple whose two-year-old daughter vanished this week have been offered support by the parents of Madeleine McCann.
Kate and Gerry McCann said their "thoughts and prayers" were with the family of Aisling Symes, who disappeared from an Auckland suburb on Monday evening.

The little girl's father Allan Symes, who is originally from County Waterford in Ireland, made an emotional plea for her return at a press conference on Thursday.

He said: "These recent days have proven to be the most harrowing of our lives - no sleep, we feel like we're barely existing, sort of surviving every moment, not knowing where Aisling is.

"Is she near us or has she been moved far away? Is she being treated well - things like, has her nappy been changed? These thoughts churn through us as we huddle close as a family."

Madeleine was three when she vanished from her family's holiday apartment in Praia da Luz, Portugal, in May 2007 as her parents dined with friends nearby.

Mr and Mrs McCann, from Rothley, Leicestershire, said in a statement: "Our thoughts and prayers are with Aisling and her family. We wish Aisling's parents the strength and support they will be needing at this most painful time, and we join them in hoping for Aisling's safe and speedy return.

"We urge anyone who has any information about Aisling to come forward to the local police as soon as possible and end this family's suffering."

Aisling was with her parents as they cleared a relative's house in the Auckland suburb of Henderson when she went missing at about 5.30pm on Monday.

New Zealand Police described her as tall for her age, and said she was believed to be wearing a green jacket and blue jeans embroidered with flowers.