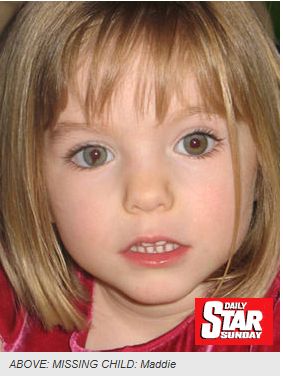 ABOVE: A drug baron claims Maddie was stolen to order."
MADDIE McCann was a "mail-order kid" snatched by a scarfaced North African crime lord, acc-ording to explosive new claims revealed today.

Police are now hunting an Algerian mafia boss who allegedly bragged to British associates in Portugal just weeks after the child's disappearance.

He told them he had snatched Madeleine in a £100,000 "steal-to- order" kidnap plot.

And the Daily Star Sunday can reveal that police are set to quiz two jailed British gangsters believed to have heard his shock claims.

After a tip-off from underworld sources, detectives want to quiz Liverpool drug baron Paul Bennett, 45 – behind bars for perverting justice after going on the run for eight years in the Algarve.

They are also keen to talk to James Neil, 40, a business partner of Bennett and an associate of caged Notts drug baron Colin Gunn.

Both men and our source – who is also a top-level gangster – were running a lucrative entertainment protection racket in Portugal.

A shadowy Algerian, who went by the names Younis and Tariq and was staying in Albufeira, allegedly tried to muscle in with his Moroccan-based mob.

Our source, who was based just 15 minutes from the Praia da Luz resort from where two-year-old Maddie was abducted in May 2007, said: "This fella heard what Bennett was doing and wanted a slice.

"He was a nasty piece of work – a heavy-hitter drug dealer who also talked about mail-order kids.

"The kids were nicked to order – snatched and delivered to wealthy people for big cash payouts.

"Bennett and Jamie thought they could negotiate with this guy but he was just looking at them thinking that they were a couple of big, roast chickens and he was going to gobble the lot up.

"In one meeting, before Maddie vanished, the Algerian said he'd taken kids from other parts of Europe and sold them on to rich families in Morocco.

"After Maddie was gone, we had another business meeting and he just came right out with it and said he and his team had done Maddie.

"The Algerian said Maddie had been taken away by ferry and joked about mail-order kids again.

"I don't think he was bothered whether she was sold to paedophiles or just a family.
"He was only interested in the money. It was around 100 grand."

The Algerian – black, with cropped hair and facial scars – is "known to police in Portugal".

Last night a police spokesman in Leicestershire where the McCanns live, said: "We have no comment to make