The purpose of this site is for information and a record of Gerry McCann's Blog Archives. As most people will appreciate GM deleted all past blogs from the official website. Hopefully this Archive will be helpful to anyone who is interested in Justice for Madeleine Beth McCann. Many Thanks, Pamalam
Note: This site does not belong to the McCanns. It belongs to Pamalam. If you wish to contact the McCanns directly, please use the contact/email details campaign@findmadeleine.com
MADELEINE MCCANN: POLICE CHIEF FACES LIBEL TRIAL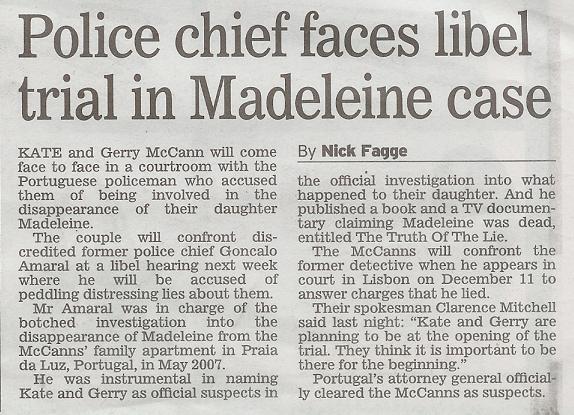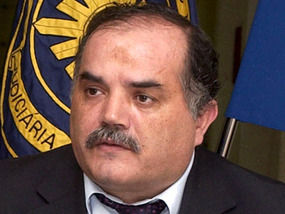 Goncalo Amaral will face a libel trial in Madeleine McCann case
KATE and Gerry McCann will come face to face in a courtroom with the Portuguese policeman who accused them of being involved in the disappearance of their daughter Madeleine.
Madeleine McCann's parents will confront discredited former police chief Goncalo Amaral at a libel hearing next week where he will be accused of peddling distressing lies about them.

Mr Amaral was in charge of the botched investigation into the disappearance of Madeleine from the McCanns' family apartment in Praia da Luz, Portugal, in May 2007.
He was instrumental in naming Kate and Gerry as official suspects in the official investigation into what happened to their daughter.

And he published a book and a TV documentary claiming Madeleine was dead, entitled The Truth Of The Lie.

The McCanns will confront the former detective when he appears in court in Lisbon on December 11 to answer charges that he lied.

Their spokesman Clarence Mitchell said last night: "Kate and Gerry are planning to be at the opening of the trial. They think it is important to be there for the beginning."

Portugal's attorney general officially cleared the McCanns as suspects.

TO HELP KEEP THIS SITE ON LINE CONSIDER