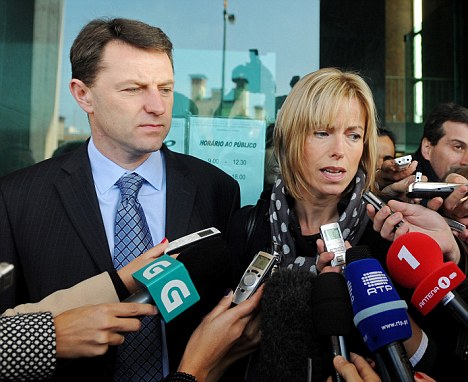 Gerry (left) and Kate McCann leave the Tribunal Civil de Lisboa in Lisbon in December.
Madrid, Spain (CNN) -- The parents of missing Madeleine McCann are due in Portugal this week as plaintiffs in a case seeking 1.2 million euros ($1.7 million dollars) in libel damages against a former Portuguese police investigator, McCann family spokesman Clarence Mitchell told CNN.
The ex-officer, Goncalo Amaral -- who worked for a time on the case after Madeleine was reported missing in May 2007 -- wrote a book that "indirectly alleges Madeleine is dead and implies" the parents must have known, Mitchell said.
Madeleine vanished from the family's holiday villa at the Portuguese beach resort of Praia da Luz on May 3, 2007 as her parents, Kate and Gerry McCann of Britain, dined in a nearby restaurant. She was 3 years old at the time.
The McCanns maintain that Madeleine is alive and have garnered international support in an effort to find her, enlisting the aid of celebrities and Pope Benedict XVI.
Kate and Gerry McCann are due to fly to Lisbon Monday afternoon and plan to attend the full hearing, which starts Tuesday and is expected to last three or four days. A verdict is likely soon after the conclusion, possibly by the end of next week, Mitchell said.
The McCanns accepted $1.1 million in libel damages in March 2008, and front-page apologies from the London newspapers the Daily Express and the Daily Star, over stories alleging the parents were involved in the disappearance or death of their daughter.
The money went to Madeleine's Fund, a nonprofit company set up to find the girl and bring to justice anyone who played a role in her disappearance.
At one point, authorities in Portugal had named the girl's parents as suspects, along with a British man living in Portugal, Robert Murat. But a spokesman for the Portuguese prosecutor's office said in July 2008 that authorities found no evidence of involvement by any of the three and were no longer considering them suspects.
Portuguese investigators closed the case in July 2008.
Amaral's book, "A Verdade da Mentira," ("The Truth of the Lie") was published in Portugal in 2008.
It has since been published in France, Germany and Spain, with excerpts and its allegations repeated on the Internet, Mitchell said.
A Portuguese judge has granted an injunction against Amaral, freezing some assets, and ordering him not to repeat his allegations. The judge also ordered unsold copies of the book to be returned to the publisher, and "many thousands" have already been returned, Mitchell said.
But Antonio Cabrita, a lawyer for Amaral, told CNN he will argue the right to "freedom of speech," under the Portuguese constitution in seeking to lift the judge's injunction against the book and Amaral.
The injunction, issued in September 2009, also extends to the book's Portuguese publisher and a Portuguese TV station that reported on the book's allegations, said Cabrita, who represents only Amaral, not the other defendants.
Amaral is expected to testify first, on Tuesday, about his book's allegations that Madeleine may have died accidentally at the Portuguese resort and that her parents were aware of that, Cabrita said.
"Now there is a chance to present new facts" to the judge, Cabrita said, adding that Amaral's book basically contains allegations that were part of the police investigation before authorities closed the case.
Mitchell said such allegations, which can't be proven, hurt the parents' search to find Madeleine.
The McCann couple "didn't start this fight" with Amaral and were reluctant to bring the lawsuit, but felt compelled because "he can't prove his points," Mitchell said.
Amaral was a lead investigator on the case when he gave an interview to a Portuguese newspaper, despite an order of judicial secrecy surrounding the investigation, and his superiors then removed him from the case, Cabrita said.