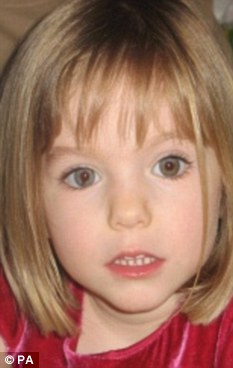 Missing: Madeleine McCann has not been seen since May 2007
A tearful Kate McCann yesterday begged the Government to help find her missing daughter as her husband said they were 'just managing to keep our heads above water'.
The desperate mother of three and her husband Gerry had a face-to-face meeting with Home Secretary Alan Johnson to plead for Interpol to review the botched Portuguese investigation.
The couple, both 41, fear that their own £2million investigation has hit a brick wall because British and Portuguese police have ignored the potential leads their private detectives have uncovered.
Their frustration was evident as they spoke about their anger that no police force is searching for their daughter Madeleine.
Although hundreds of witness statements and photographs of potential sightings of the missing girl have been handed to officers in Portugal, they have been filed as 'irrelevant' and left to gather dust.
Mr McCann said: 'You would hope that the parents of a missing girl wouldn't have to be here begging for assistance, and that the authorities would do everything in their power in the first place.
'There are instances where information which we think is very credible and worthy of investigation has not been actioned.
'We're gutted, it's absolutely shocking and difficult.We are just managing to keep our heads above water.' Mrs McCann said: 'Some of the information that has been handed in was very credible. It's heartbreaking to know that it seems to end there.'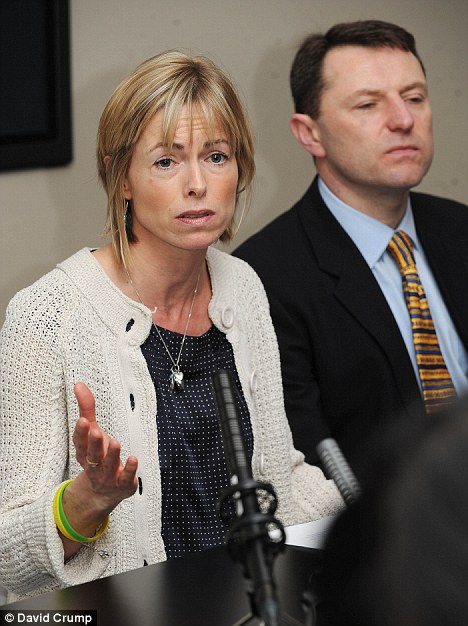 Plea: Kate and Gerry McCann held a press conference yesterday and called for a full case review into their daughter's disappearance
Sources said the pair had received ' commitments' from Mr Johnson at a meeting in December that he would pursue the issue with his counterparts in Lisbon. The McCanns, from Rothley, Leicestershire, have also held a series of meetings with Home Office and Foreign Office officials.
The McCanns acknowledged that there were political issues which could obstruct a Portuguese-English review, and that failures in the high-profile case have caused international embarrassment for the Portuguese government.
But Mrs McCann, a former GP, lashed out angrily at suggestions that political or individual failure could halt the search.
'It is difficult but I don't think that's a reason not to do it,' she said, appearing to fight back tears.
'I don't think that's adequate, to say there are problems and we're not going to do it.
'There's a little girl still missing, and you can't just write her off and say "Well we've tried and that's just too bad". It's not good enough.'
The McCanns this week won a legal case against the former head of the Portuguese police investigation, Goncalo Amaral, who had claimed they faked Madeleine's abduction to cover up her death.
Madeleine disappeared from her parents' rented holiday apartment in Praia da Luz in May 2007, shortly before her fourth birthday.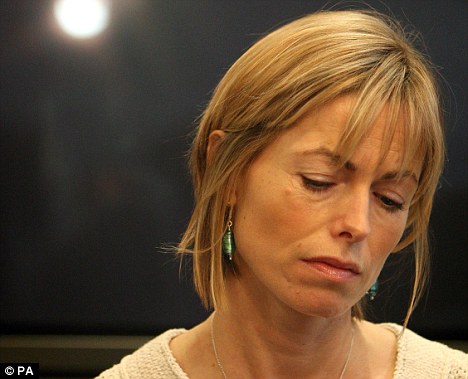 Emotional: Kate McCann said police efforts to find Maddie were 'not good enough'
Despite a global search for the missing girl, there have been no confirmed sightings of her since she vanished.
Mrs McCann said: 'We have worked incredibly hard, day in day out for the last two years. It is just so hard when somebody's doing their utmost to stop your efforts and stop the search. To me it's inhumane. Hopefully our search will now have more effect.'
Her husband, a hospital heart consultant, said it was 'unacceptable' that Portuguese police were refusing to investigate new information, and that British police were powerless to take over the investigation.
Speaking at a press conference in London, he said: 'I think people are reluctant to undertake a review because there's been difficult, sensitive issues.
'But Madeleine's rights should be put first. She's missing, she's innocent, and whoever's taken her is still out there, and that has to be of paramount importance.'
Portuguese authorities shelved the case in July 2008 after failing to find any evidence of what happened to Madeleine.
A source close to the couple said: 'The reality is there will only be a new investigation if Portugal asks for one, and Portugal is just too proud to admit that it is needed.'
A spokesman for the McCanns' local police force, Leicestershire, said: 'We, nor any other UK law enforcement agency, has jurisdiction in Portugal.
'This does not alter just because the person involved is a British citizen.
'Therefore any deployment of officers to Portugal would have to be requested and sanctioned by the Portuguese authorities.'