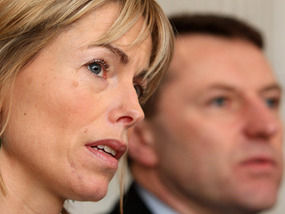 Kate and Gerry McCann have asked David Cameron to help find their daughter Madeleine
KATE and Gerry McCann have asked David Cameron to help find their daughter Madeleine after a private emotional meeting with the Tory leader.

They spent half an hour at his Westminster office explaining their frustration and disappointment with the investigations.
If Mr Cameron wins the election – expected on May 6 – the McCanns hope he would give the case a new priority and order a review of all the evidence.

Mr Cameron, 43, the father of two young children himself, expressed a desire to the couple to do anything in his power to discover what happened to Madeleine, who disappeared from a holiday flat in Praia da Luz on the Algarve on May 3, 2007.

Andy Coulson, the Tory director of communications, and Clarence Mitchell, the McCanns'spokesman who hopes to stand as a Conservative in the forthcoming election,were also present.

Last week it was disclosed that Kate and Gerry, 41-year-old doctors from Rothley, Leics, have had a private meeting with Home Secretary Alan Johnson to request a review of the evidence.
He has been notably silent on the case, seemingly preferring to sit on the fence rather than use his influence to demand a breakthrough and there are no indications he will order a review.

The McCanns' lawyer has been given a Portugese police file of new sightings which have not been properly investigated. She is particularly interested in information that Madeleine may have been in Spain and Italy.
Last week a judge in Portugal ruled that a book by a former police chief should continue to be banned because his unproven claim that Madeleine died in the flat is damaging the search.

On Friday Kate McCann was close to tears as she spoke of the "heartbreaking" failure by police to probe new leads.
"There's a little girl still missing and you can't just write her off and say 'Well, we've tried and that's just too bad'," she said. "It's not good enough."
Mr McCann said: "Information which we think is very credible and worthy of further investigation has not been actioned. We're gutted, it's absolutely shocking."