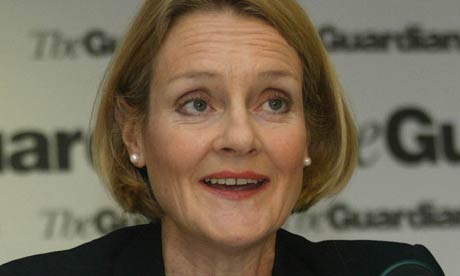 Baroness Buscombe: said the PCC had held 'numerous discussions internally' about the McCann case. Photograph: Martin Argles/Guardian
Baroness Buscombe, the chairman of the Press Complaints Commission, today defended the regulator's failure to launch an inquiry into press coverage of the disappearance of Madeleine McCann in 2007.
Buscombe, who took up her role in April last year, was speaking after the House of Commons culture, media and sport select committee criticised the PCC for staying silent for 10 months after McCann went missing while newspapers were apparently breaching its code of practice.

"In any other industry suffering such a collective breakdown ... any regulator worth its salt would have instigated an inquiry," the MPs said in their report. "It is an indictment on the PCC's record, that it signally failed to do so."

But Buscombe said the PCC had been constrained to act because the McCann family had not made a formal complaint to the watchdog about newspaper coverage.

The McCanns instead took legal action that resulted in a £550,000 payout from Express Newspapers, a private settlement with Associated Newspapers and an apology from the News of the World.

"It's very important to put it in context," Buscombe told The Media Show on BBC Radio 4 today.

"What actually happened was that as soon as the story broke, the PCC was very much in touch with the McCann family and repeatedly offered to help.
"The McCanns and the PCC over the months that followed were in touch and indeed Gerry McCann in this inquiry actually praised the PCC for helping very much in terms of privacy matters relating to their other children."

Buscombe said the PCC had held "numerous discussions internally" about the McCann case.
"The difficulty that it had was that it's very difficult for a self-regulatory body such as ours to actually pre-empt and decide in some ways whether a headline or statements that are being made are something that we should be tackling without proper engagement of the complainants.

"And we did say that there were lessons to be learnt from that, absolutely. We just think it's regrettable in some ways that the McCann family didn't actually come to us for us to be able to act on their behalf."

She said that in the case of suicides in Bridgend, south Wales, the PCC "did a huge amount ... on a daily basis almost".
"The PCC made it clear back in 2007 that there were definitely lessons to be learnt," she added. "Since I've come on board I have been very clear that I believe there are ways that we could improve our accountability and our transparency."

Buscombe said the PCC had initiated an independent review of its governance and was receiving a record number of complaints. "There is no question that we're not toothless," she added.

It would be a "dangerous route" to put PCC on a statutory footing, Buscombe said. "I'm actually very keen that we do all we can to beef up our powers but in a way that makes sure we remain completely and utterly independent of the state. The day we talk about press regulation funded and police by the state, our democracy is definitely at risk."

She added that more people used the PCC to handle privacy cases than went through courts, "because we are able to handle things very quickly, very responsibly".