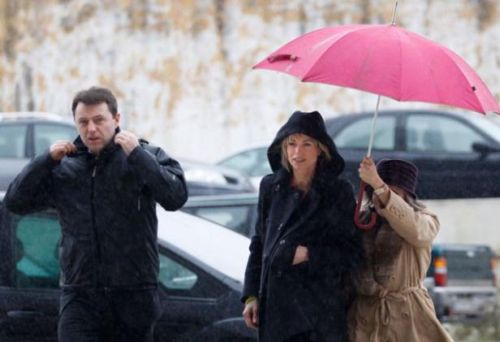 Kate and Gerry McCann arrive at court in Lisbon
Gerry and Kate McCann will return to court in Portugal today as a former senior detective continues his attempt to overturn the couple's ban on his book.
The pair, from Rothley, Leicestershire, are battling to stop Goncalo Amaral from repeating claims that their missing daughter Madeleine is dead.
Mr Amaral was the first head of the police investigation into the little girl's disappearance from Praia da Luz in Portugal in May 2007, shortly before her fourth birthday.
In July 2008 he published a book, Maddie: The Truth Of The Lie, which alleges that Madeleine died in her family's holiday flat and that her parents faked her abduction.
A judge granted the McCanns a temporary injunction in September last year halting further sale or publication of Mr Amaral's book and a TV documentary he made about the case.

The ex-policeman launched an appeal against the ban at the main civil court in the Portuguese capital Lisbon last month, calling a series of witnesses to support his claims.
The McCanns admitted sitting through the evidence was painful but insisted they were right to bring the case.

The hearing was adjourned until today, when two further witnesses will give evidence for Mr Amaral before the lawyers make closing speeches.
Judge Maria Gabriela Cunha Rodrigues is expected to reserve judgment and send her ruling directly to the McCanns and Mr Amaral before the end of this month.
It is understood that Mr and Mrs McCann, both 41, will attend today's hearing in Lisbon before flying back to Britain tonight.
Mr Amaral's lawyers argue the material in the book is contained in the official Portuguese police files for the investigation, many of which were made public in August 2008.

The McCanns say their main motive for challenging the former policeman is the fear that people will stop looking for Madeleine if they think she is dead.
There will be a full trial at a later date on whether the injunction banning the book should be made permanent.

The McCanns are also seeking 1.2 million euros (£1.08 million) in compensation for defamation in separate civil proceedings against Mr Amaral in Portugal.
The former detective has vowed to fight all the way to the European Court of Human Rights if he loses his case.