1000Lux1_iiol_pt_25-01-2010
A) inside the box:
(top) Kate and Gerry McCann speak exclusively about life without Madeleine, the feelings that torment them and the struggle to find her.
(below)
"The twins speak of their sister every day and of the chance of finding her, bringing her home and our being once again a family of five."
B) below the photos:
In an old photograph can be seen all the happiness of the McCann family, while the nightmare that overshadows it persists. "Losing a child is a permanent trauma. Our life changed forever"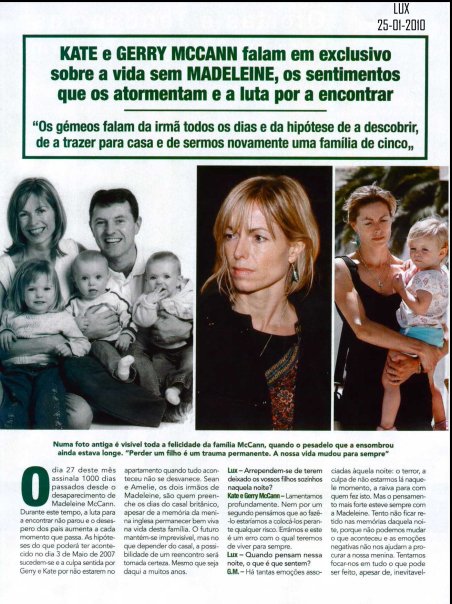 1000Lux2_iiol_pt_25-01-2010
A) bottom left
(top): "We were wrong in leaving our children alone and we are going to live with that forever"
(below):
27 January makes 1000 days since Madeleine disappeared. To mark that date the McCanns are going to organise a fund-raising event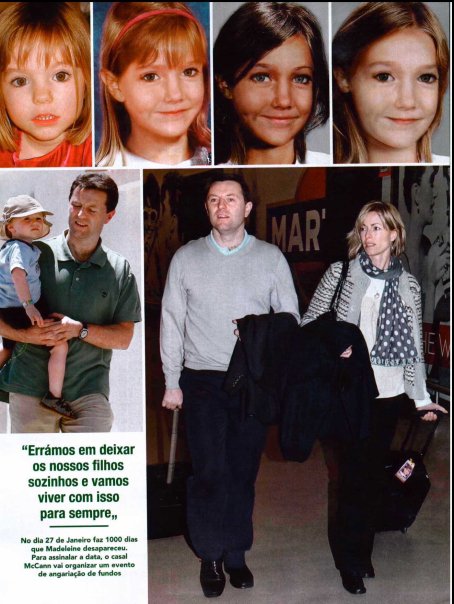 1000Lux3_iiol_pt_25-01-2010
A) bottom left:
(top):
"We never blame one another for what happened, because we took the decision together"
(below):
Since Madeleine disappeared Kate and Gerry keep her memory intact. "She was such a big part of our life and a wonderful child!"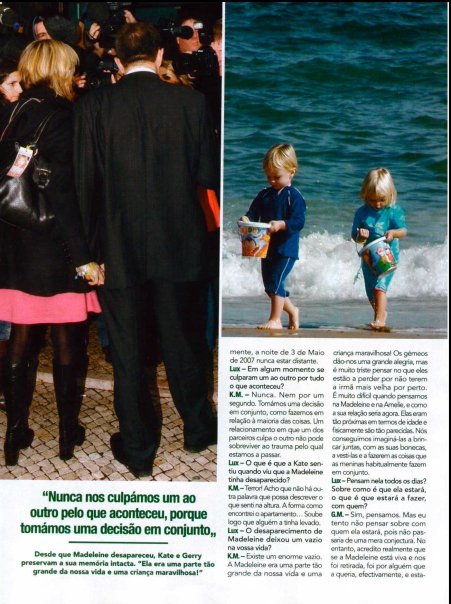 1000Lux4_iiol_pt_25-01-2010
A) below photos:
Despite their young age Sean and Amelie hold several memories of their sister. "It is difficult to think of Madeleine and Amelie and how they would relate to each other now. They were so close in terms of age and physically they are so alike"
B) main heading:
"I try not to relive the memories of that night. The negative emotions do not help us to find our little girl"