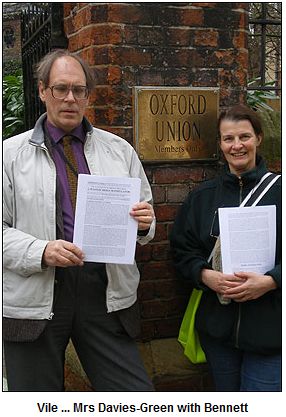 The Sun used the above photo of Tony Bennett and Helene Davies-Green to illustrate this article. The photo is actually the property of Tony Bennett on whose camera the photo was taken. If you wish to link to this article and use that photograph please seek permission first from Tony Bennett, who can be contacted via the 'Contact Us' page on The Madeleine Foundation website at www.madeleinefoundation.org.uk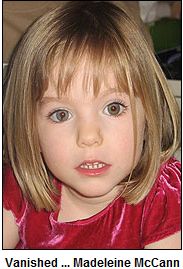 A

WOULD-BE UKIP MP took part in a vile leaflet campaign blaming

Madeleine McCann's
disappearance on her grieving parents, The Sun can reveal.
Helene Davies-Green, 62, delivered flyers titled "Ten Reasons Why Madeleine Was Not Abducted" to Kate and Gerry's neighbours.
It was produced by the anti-McCann Madeleine Foundation, of which the wannabe politician is a committee member.

Mrs Davies-Green's husband Grenville is the group's chairman.

The folk singer is standing in Cambridge South for the right-wing anti-Euro party on May 6.
Doctors Kate and Gerry, both 42, were left "horrified, angry and upset" by the deliveries in their village of Rothley, Leics, last August.
The flyer claimed if Maddie died in the family's holiday flat in Portugal in 2007, those who caused or allowed the death "got away with it".


Mrs Davies-Green also handed out pamphlets branding the McCanns' spokesman "a master media manipulator" with the group's founder Tony Bennett in Oxford last year.



The foundation has claimed Madeleine, three, was NOT abducted in Praia da Luz and that her parents were to blame for her "death".


A UKIP spokesman said last night: "Whilst having every sympathy with the McCanns and their predicament, UKIP believes in the freedom of speech."
n.syson@the-sun.co.uk