MADELEINE McCann suspect Raymond Hewlett confessed on his deathbed that he KNEW what happened to the little girl, The Sun can reveal.
In a letter to his estranged son Wayne, he denied having anything to do with Maddie's disappearance.
But he said he knew she had been stolen to order by a gipsy gang who kidnap children for wealthy couples unable to have kids or adopt.
Hewlett, a serial paedophile seen near the spot where Maddie was snatched in Portugal, said they had a "shopping list" of potential targets - such as a little girl with blonde hair like Maddie.
Private detectives working for Maddie's parents Kate and Gerry are "extremely interested" in Hewlett's claims.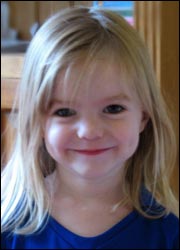 Vanished ... Maddie
A source close to their ongoing investigation said: "What he says fits the No1 theory, which is that she was stolen to order."
Hewlett died of throat cancer in April, aged 62, after persistently refusing to meet the McCanns' detectives.
He became a suspect because of his appalling record of rape and abduction of children.
And he was living as a nomad in Portugal with his second family when Maddie vanished from the McCanns' holiday apartment in Praia da Luz in May 2007.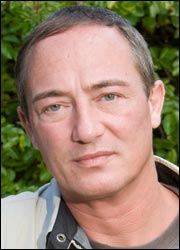 Shocked ... son Wayne
Hewlett's letter to builder Wayne, 40, was delivered to the son by a mystery man - thought to be a solicitor or a private eye - a week after he died.
Most of it was an apology for how his vile crimes had affected his first wife Susan and Wayne.
But then he went on to write about Maddie, who was nearly four when she went missing.
Wayne, of Telford, Shropshire, said: "It was a bolt from the blue and I shook when I read it.
"He stated he didn't want to go to his grave with us thinking he had done such a horrible thing.
"He said he had had nothing to do with taking Maddie but did know who had.
"He said a very good gipsy friend he knew in Portugal had got drunk and 'let it out' that he had stolen Maddie to order as part of a gang.
"My dad said this gang had been operating for a long time and had snatched children before for couples who couldn't have children of their own.
"Maddie had been targeted. They took photos of children and sent them to the people they were acting for. And they said Yes or No.
"Dad said the man told him it was nothing to do with snatching children for a paedophile gang or for a sexual reason.
"He said there were huge sums of money involved. And he totally believed what this man was saying."
The account fits with others surrounding the Maddie mystery.
Several strange men were seen taking photos of children around the Ocean Club resort in the days before she vanished. And The Sun revealed earlier this year that a British expat thought he had seen Maddie in a white van driven by a gipsy couple the day after she was lost.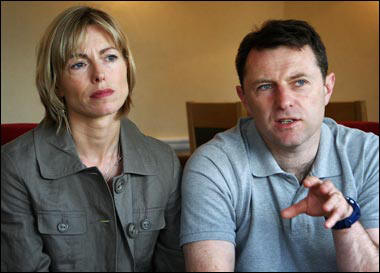 Hope ... parents Kate and Gerry McCann
Wayne, who had no contact with Hewlett for nearly 20 years, said his father's letter seemed "very genuine".
He added: "I don't know if this is what happened to Maddie or not, but it does make sense. I can't believe he'd go to those lengths to make up some elaborate lie when he was so weak and ill."
Wayne said he considered going to Kate and Gerry with the letter but was worried it could cause them more heartache if it gave them false hope. He added: "I actually burned it because it unnerved me so much.
"To have a letter from someone you hated for so long was just mind-blowing. I couldn't deal with it."
Wayne did not contact The Sun about the message. We learned of its existence through a friend.
But now he intends to sit down with the Maddie detectives to tell them everything he knows.
The McCanns' spokesman Clarence Mitchell said last night: "We are extremely grateful to Wayne for coming forward with this information and the detective team will be interviewing him as a matter of priority." a.lazzeri@the-sun.co.u.