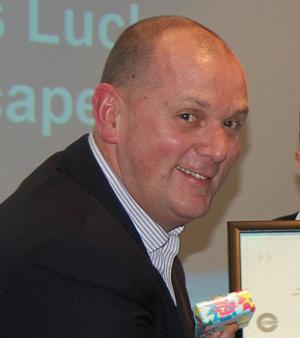 STEPPING DOWN: Jim Gamble, who resigned over plans to incorporate Ceop into a National Crime Agency
A MOVE to end the independence of an agency tasked with combating online paedophiles was last night criticised by victims' families.
The family of murdered Darlington teenager Ashleigh Hall joined the parents of missing Madeleine McCann and Sara Payne, mother of murdered eight-year-old Sarah, in criticising moves to incorporate the Child Exploitation and Online Protection (Ceop) into a new National Crime Agency.
The proposal has led to Ceop chief executive Jim Gamble resigning.
Ceop led a campaign for Facebook to install a "panic button" to give reassurance to young users.
The campaign was stepped up after the murder of 17-yearold Ashleigh at the hands of sex offender Peter Chapman, who groomed her on the internet.
Mike Hall, Ashleigh's grandfather, said: "Ceop was running well and did not need messing with – they were just starting to get things done."
Darlington MP Jenny Chapman, who was Ashleigh's ward councillor, said the Government's proposal would "put internet safety back years".
She said: "Ceop has punched above its weight and I think it needs to be kept as a specialist organisation."
Internet safety expert John Steel leads the learning technologies team at Darlington Borough Council.
He said: "I am worried that if Ceop becomes part of a serious crime organisation, it will become a backroom activity.
"Jim Gamble was a huge driving force in educating people in internet safety and the fact that he has gone is a tragedy."
In a statement, Mrs Payne, Shy Keenan and Fiona Crook – who set up the campaign group the Phoenix Foundation to help the victims of abuse – said: ''This is the worst possible news and a devastating blow for UK child protection."
Mr and Mrs McCann have also criticised the proposal.
But Home Secretary Theresa May defended the move, saying the country did not need a "new quango" to carry out child protection work.
She said: "The Government recognises the importance of child protection and wants to build upon the work of Ceop, but does not necessarily feel this is best done by creating a new quango."
Following Ashleigh's death, The Northern Echo set up the Safety Net campaign, which called for tougher controls on social networking sites