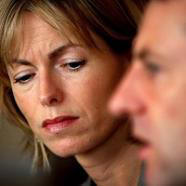 Madeleine McCann's parents have joined calls to rethink child protection plans
Missing Madeleine McCann's parents have joined the chorus of concerns about the Government's child protection policies after a top policeman quit in protest at plans to curtail his agency's independence.
Kate and Gerry McCann said it was "extremely saddening" that Jim Gamble felt he had to resign as chief executive of the Child Exploitation and Online Protection (Ceop) Centre.

They urged ministers to remember the importance of the "invaluable work" carried out by his organisation to protect children against abduction and abuse.

Mr Gamble believes plans to assimilate Ceop into a new National Crime Agency are not in the "best interest" of vulnerable children.

The McCanns have a close working relationship with Mr Gamble, who last year launched a new internet video aimed at pricking the conscience of the key witness who knows what happened to Madeleine when she vanished in Portugal in 2007, aged three.

Mr and Mrs McCann said in a statement: "We are certain that he will be a huge loss to the field of child protection. Knowing how committed Mr Gamble is to this cause, it is extremely saddening that he feels unable to continue to lead Ceop, apparently as a consequence of the proposed Governmental changes.

They added: "In this challenging economic climate, we urge the Government to remember the value of our children and the importance of the invaluable work which is necessary to protect them against the devastating crimes of child abduction and exploitation."

The Association of Chief Police Officers (Acpo) said it was "in firm support" of Ceop remaining as a stand-alone agency, while shadow home secretary Alan Johnson went further, saying the Government's plans "will harm child safety networks".
"Their lack of consultation has led to the resignation of Mr Gamble, who is highly respected within and outside of the organisation he served so well. His expertise will be badly missed," he said.

But Home Secretary Theresa May defended the move, saying: "The Government recognises the importance of child protection and wants to build upon the work of Ceop, but does not necessarily feel this is best done by creating a new quango."
Copyright © 2010 The Press Association. All rights reserved.