The role British police played in the Madeleine McCann investigation is under scrutiny after leaked documents claimed they 'developed' evidence against her parents.

Britain's ambassador to Portugal told his U.S. counterpart that British detectives 'had developed the current evidence against the McCann parents', according to a diplomatic cable revealed by the WikiLeaks website.

The previously secret meeting took place on September 21, 2007 – two weeks after Portuguese police named Gerry and Kate McCann as 'arguidos', or formal suspects, in their daughter's disappearance.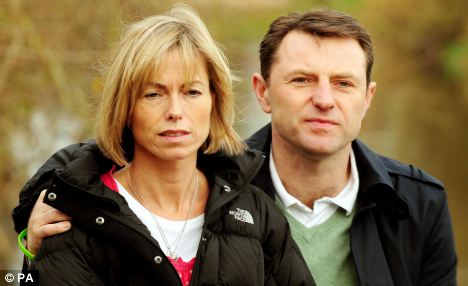 Tough times: Kate and Gerry McCann were subject to a Portuguese police investigation, allegedly aided by evidence 'developed by their British counterparts

The leaked cable has raised fresh questions about the extent of British police involvement in the Portuguese investigation.

Mr and Mrs McCann, both 42, have won a series of libel payouts from newspapers over suggestions they were involved in their daughter's disappearance.

But the leaked cable suggests British police were actively involved in helping to build a case against them.

The couple believe the decision to name them as arguidos jeopardised the hunt for their daughter, because it may have stopped potential witnesses from coming forward with information.

And it forced them to endure an agonising ten-month wait until Portuguese police admitted they had found no evidence against them, and shelved the case.

British police have always insisted they were responsible only for co-ordinating inquiries in Britain at the request of the Portuguese authorities.

But that account has been called into question by the leaked diplomatic cables, and by allegations by senior Portuguese detectives involved in the hunt.

In the diplomatic cable to Washington, marked 'confidential', U.S. ambassador Al Hoffman discussed a meeting with his British counterpart, Alexander Wykeham Ellis.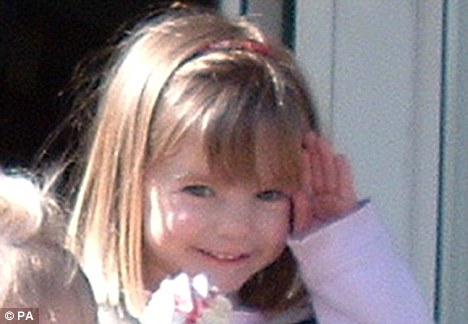 Missing: Madeleine McCann disappeared while on holiday in Portugal
He wrote: 'Madeleine McCann's disappearance in the south of Portugal in May 2007 has generated international media attention with controversy surrounding the Portuguese-led police investigation and the actions of Madeleine's parents.

Without delving into the details of the case, Ellis admitted that the British police had developed the current evidence against the McCann parents, and he stressed that authorities from both countries were working co-operatively.

'He commented that the media frenzy was to be expected and was acceptable as long as government officials keep their comments behind closed doors.'

The cable did not reveal what evidence had been 'developed' by police in Britain, but Portuguese detectives have previously made a series of startling claims about their involvement during a civil court case in Lisbon.

Lawyers for Goncalo Amaral, the former head of the Portuguese investigation, revealed that a confidential report by a British expert had suggested Mr McCann should be investigated for 'homicide'.

Criminal profiler Lee Rainbow, of the National Policing Improvement Agency, sent the report in June 2007, just a month after three-year-old Madeleine vanished from her family's rented holiday apartment in Praia da Luz.

He wrote: 'The family is a lead that should be followed.

'The contradictions in Gerald McCann's statement might lead us to suspect a homicide. This is a lead that should be investigated.'

Mr Amaral's lawyer told the court: 'Portuguese police had only considered the abduction theory. It was British police who said they must consider homicide as well.'

The McCanns took legal action against Mr Amaral in an effort to stop the sale of his book, The Truth of the Lie, in which he claimed they covered up their daughter's death.

His former deputy, Tavares Almeida, gave evidence on his behalf, and said British and Portuguese police had both concluded Madeleine was dead.

He told the court: 'We all believe she is dead. It was our conclusion as police
professionals, both Portuguese and British police. The McCanns didn't kill her but
they concealed her body.'

The couple's spokesman, Clarence Mitchell, said: 'The cable is a historic note that is more than three years old.

'Subsequently, Kate and Gerry had their arguido status lifted, with the Portuguese authorities making it perfectly clear that there was absolutely no evidence to implicate them in Madeleine's disappearance whatsoever.'