Husband has been accused of everything, writes Lin Sampson, from being a con man to being gay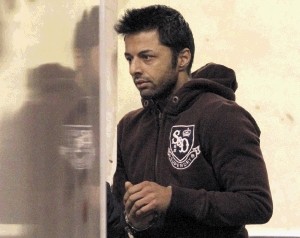 TRIAL BY MEDIA: Shrien Dewani attends the Westminster Magistrate's Court in London for bail proceedings Picture: ANDREW WINNING/REUTERS
If the newspapers are to be believed, Shrien Dewani's life must have been off the chains, tying up hit contracts, often in places he'd never even been to, googling up criminal connections, keeping up with the underworld, arranging his new wife's death within two hours of arriving in a new country, and fitting in a beating or two by rent boys in Berlin.

He even found time to go to Bristol Grammar School (not a place you slide easily into) and work for Deloittes where he qualified as a chartered accountant.
Dewani makes the Kray twins look like real wusses. And the boy only 30 - what a career lies ahead - Mossad, MI5, GRU.

In a blizzard of rumour, supposition and superheated speculation, a combination of muck rakers and police leaks, Dewani has been accused of everything, from being a con man to being gay.

Lip-smacking hacks raked up hotel receptionists who said he had got a cheapo (something journalists themselves are quite keen on); airline hostesses who said his wife Anni was crying on the plane (what air hostess? what plane?); it was reported that he walked in front of his wife. Does this suggest murderous intention? I asked one reporter why she thought the marriage was unhappy, she answered, "Because her feet were swollen."

The phrase "sources report" was used more than 200 times. I counted. Although the South African press blamed the British press, most of the rumour emanated from here and had a standard formula, a mitring together of half-truths fingering Dewani and ending with a denial that he was a suspect.

Melanie Peters writing in the Argus was the doyenne of this type of journalism. In an article headed "Bizarre Twists in Anni Killing" she wrote: "Police have information that Shrien flew into Cape Town a week before his wife was killed. November 6th."
She goes on to say that after their wedding, the couple spent two nights at a game lodge on the 10th and 11th, arriving in Cape Town on the morning of November 12.
It is the old tabloid journalist's trick of planting an idea and then dismissing it, to cover yourself.

Jeremy Gordin, writing on www.politicsweb in his capacity as a journalist and director of Wits University journalism programme which examines miscarriages of justice no less, called Dewani a "creature".

Police chief Bheki Cele called him a "monkey". It appears that most people would rather hang with a self-confessed murderer crouching on a plea bargain than go with an old legal rule: innocent until proved guilty.

One question surfaced constantly: how did Shrien get away unscathed?
In an effort to research this piece, I tracked through nearly a hundred hijack stories. In one, a husband and wife were killed; in another, a baby and father were murdered, mother left alive and a cellphone taken; in yet another, nobody was killed and nothing was taken, not even the car. Cars were frequently abandoned a few kilometres away.
Crime in South Africa has no pattern. Hijackings particularly are usually botched and bungled.

The other refrain was: what were they doing in Gugulethu late at night? When you are in a foreign country, you are frequently in the hands of a taxi driver. Miles Durand, an interior decorator who visits India frequently, says: "I give my life over to these taxi guys. They could take me anywhere. So far I have been lucky. I am ashamed to say that I have also exchanged money on the black market on the advice of a taxi driver."
The Dewani case has similarities with the Madeleine McCann case. It has the same tone of personal vindictiveness; unverified stories were constantly leaked to the press by the police.

Sniffer dogs were taken to England and detected Madeleine's bodily fluids on Kate McCann's skirt, a garment she had worn long before her daughter disappeared. This was enough to have them declared official suspects.
The McCanns were accused of being too calm; an accusation that was levelled against Dewani. It was seen as ominous that he employed a spin doctor; the McCanns also employed one.

So what has it done for South Africa? If Dewani is guilty, then the fact that you can get a hit man for R1500 might attract a niche market of people wanting to knock off someone. If he is not guilty, and so far no substantiated fact has emerged, then our police, our journalists, our country, have more than egg on their faces. They have blood.