The purpose of this site is for information and a record of Gerry McCann's Blog Archives. As most people will appreciate GM deleted all past blogs from the official website. Hopefully this Archive will be helpful to anyone who is interested in Justice for Madeleine Beth McCann. Many Thanks, Pamalam
Note: This site does not belong to the McCanns. It belongs to Pamalam. If you wish to contact the McCanns directly, please use the contact/email details campaign@findmadeleine.com
Secret video of Maddie suspect, 06 March 2011
MADELEINE McCann suspect Raymond Hewlett said his wife would "go mental" if she was asked about the missing girl in a dramatic video recorded before his death.

Convicted paedophile Hewlett was tracked down to a German hospital by a British couple who met him on holiday in Portugal.

In a tense video, the couple confront Hewlett and tell him they know of his paedo past - and ask him if he was involved in Madeleine's disappearance from an apartment in Praia da Luz on the Algarve in May 2007. He replies: "You're joking. How would I know about that'"

Hewlett then launches into a rambling alibi, during which he claims he was at a market with German wife Mariana Schmuecker on the day Madeleine vanished - except the market is held on Saturdays and the little girl went missing on a Thursday.
Terrified the couple are going to speak to his wife, Hewlett adds: "I mean, you going... going to repeat all this to Mariana about this, about this kid' She'll go mental.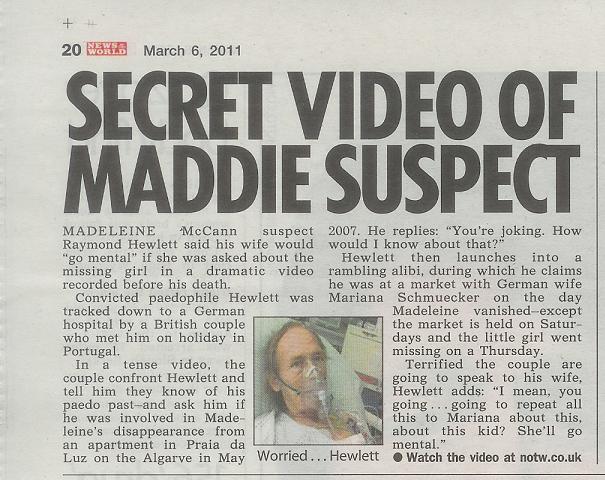 TO HELP KEEP THIS SITE ON LINE CONSIDER