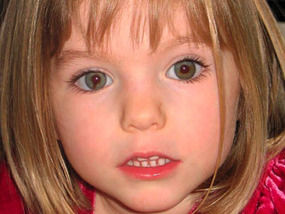 Kate's 384-page memoir, Madeleine, is being published on the missing girl's birthday on May 12
THE mother of
Madeleine McCann
is using the
book
she has written to send a plea to her daughter's kidnappers: 'Please, let her come home.'

Kate McCann's anguished account of her living nightmare since Madeleine was snatched nearly four years ago is set to be this year's publishing sensation when it goes on sale next month.

Kate, and her husband Gerry hope the book will be read by Madeleine's abductors and even by their daughter, who will turn eight next month.

A friend said last night: 'The book is another warning from the family that they will never stop searching for their beloved daughter. Whoever snatched Madeleine should be warned that the book will only bolster the search efforts.'

Kate's 384-page memoir, Madeleine, is being published on the missing girl's birthday on May 12 and has been translated into several languages, including Portuguese and Spanish.
The family's spokesman Clarence Mitchell said: 'Kate is writing the book to raise awareness of her daughter's disappearance and to pay private investigators to continue the search to find her.

'Ultimately she is hoping and praying it will lead to her daughter being found alive.'
The international drive to market the book is aimed at triggering a vital new lead in the long-running investigation.
A friend of Kate said: 'Anyone will be able to get their hands on it. If Madeleine's still out there, as her family and friends believe, she could have access to it.'

Kate, a 42-year-old doctor and her cardiologist husband Gerry, also 42, are convinced Madeleine was abducted nearly four years ago.

In desperation, Kate has sent an anguished public message to the kidnappers, begging them to treat her beloved Madeleine 'with love and respect'.
The couple said on their Find Madeleine website: 'We hope with all our hearts that wherever she is, she is safe and well.'

They also hope 'whoever may be with her is treating her with the love and respect she so deserves'.
Anxious friends have revealed that Kate has been overwhelmed with emotion while putting the finishing touches to her book, which she hopes will raise millions of pounds for the dwindling fund set up to find Madeleine.
Within weeks of Madeleine's disappearance money from the public poured in, but it emerged recently that the fund had dropped from its '2million peak to just a fraction of that amount.

A friend said: 'Kate is hoping the book will keep the search going for another year.'
Madeleine will be published next month by Transworld, who have bought UK and Commonwealth rights, including Europe, Australia and Canada.
A source close to Kate said: 'No American deal has yet been done but it will be.
'Kate wants the book to be global because Madeleine could be anywhere in the world.'

Madeleine went missing from the holiday resort of Praia da Luz on Portugal's Algarve days before her fourth birthday in May 2007 while her parents were dining with friends in a nearby restaurant.

The official Portuguese inquiry into Madeleine's disappearance formally ceased in July 2008 but private detectives employed by the McCanns have continued the search for their missing daughter.
The McCanns, of Rothley, Leics, have developed close links with American authorities and have made several fact-finding trips to the US National Centre for Missing and Exploited Children.

An investigator also recently claimed Madeleine had been taken across the Atlantic, one of a multitude of claims and sightings that have been made over the years.
Amateur detective Marcelino Italiano, 36, insists the youngster was abducted by an Algarve-based paedophile ring and has given the name of two key suspects to police. His claims are being looked into by private detectives working for Kate and Gerry.
According to friends, researching and writing the book has been heartbreaking at times for Kate.
One said: 'Writing the book is proving to be a very painful experience for Kate, reliving all the awful memories and writing about her darling daughter when she is still not home.
'It is the book she never wanted to write but the family are desperate to keep the search for her going.'

Kate, who also has six-year-old twins Sean and Amelie, said: 'My reason for writing is simple ' to give an account of the truth.

'Publishing this book has been a very difficult decision but with the depletion of Madeleine's Fund, it is a decision that has virtually been taken out of our hands.
'Every penny we raise through its sales will be spent on our search for Madeleine. Nothing is more important than finding our little girl.'
Kate has recently accused the Government of giving up the hunt for her daughter, saying a series of ministers had shrugged off her pleas for help.
She said: 'We need action, not fluffy, worthless words.'