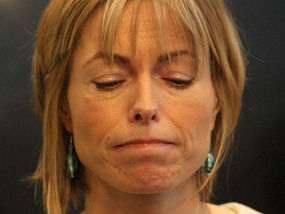 Madeleine McCann's mother Kate McCann will not do a book tour as she fears an assault
KATE McCann is so fearful of being attacked she is refusing to do public signings of her new book about the fight to find daughter Madeleine.
She will do television interviews here and in Portugal, where Madeleine disappeared four years ago, but will not meet the public over fears for her personal safety.
A source close to the publishers told the Sunday Express yesterday: 'Kate doesn't want to give anyone the opportunity of heckling her or attacking her during any promotional tour. It's been emotional enough just writing the book.'
The 348-page book, called Madeleine, is published on May 12, the little girl's eighth birthday.
We can disclose that one of the groups that could potentially have caused trouble is The Madeleine Foundation, which plans to distribute leaflets and step up an internet campaign confronting Kate and Gerry McCann on the date of publication.

They have already written to publishers Transworld demanding answers to 163 questions.
The questions include several put to the couple by the Portuguese police. One question asks: 'How would the McCanns' children have coped if there was an emergency while they were absent and out of earshot''

They also ask why the McCanns did not use the hotel's evening baby-sitting service.
The Foundation letter states: 'Many feel that the McCanns owe it to the public, whom they have so frequently asked for help, to give them reasonable answers to their questions.'
Kate, 42, has written the book because the Madeleine Fund, set up by well-wishers, is getting through money fast.

The McCanns want to be able to pay for further private detective work to track her down and cling to the belief that Madeleine is still alive somewhere.

Kate has said: 'My reason for writing is simple ' to give an account of the truth.
'Every penny we raise through its sales will be spent on our search for Madeleine.'
The couple have devoted their lives to finding Madeleine.
They live in Rothley, Leicestershire, with their six-year-old twins Sean and Amelie.
The couple say Madeleine was abducted from their Algarve hotel apartment where the children had been left while they had dinner with friends a short distance away.

Public book-signings have become a risk for celebrities.
Last year former prime minister Tony Blair was pelted with eggs and shoes by anti-war protesters at a signing in Dublin.
A year earlier X Factor star Leona Lewis was punched in the face as she signed copies of her autobiography in London