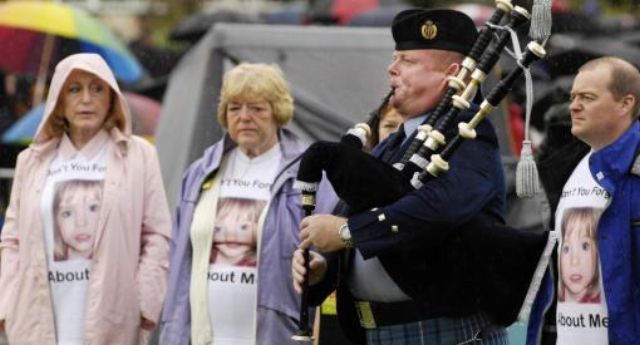 Piper Alistair Gillies with Madeleine's relatives at the event
A lone piper has played a specially-composed march in Glasgow to mark 100 days since the disappearance of Madeleine McCann in Portugal.
Members of the four-year-old's family, who believe Madeleine is still alive, were at the event.
The youngster went missing from a holiday apartment in Praia Da Luz on the 3 May
"We just do our best and focus on our campaign to get Madeleine home "

Philomena McCann
Madeleine's aunt
, as her parents dined nearby.
Piper Alistair Gillies played the tune on Glasgow Green during the World Pipe Band Championships.
An appeal was also being broadcast on big screens at the site, which has representatives attending the competition from 51 countries across the globe.
Madeleine's aunt, Philomena McCann said hearing the tune had been an uplifting experience.
She told BBC Scotland: "Like everybody else, we're human, we have good days and bad days and within that there are huge swings, we just do our best and focus on our campaign to get Madeleine home.
"I'm very hopeful that she's alive, all the evidence, of which we haven't seen very much, doesn't point to her not being alive."
Ms McCann said experts in the field of child abduction would now be helping take the campaign to find Madeleine forward much more than the family.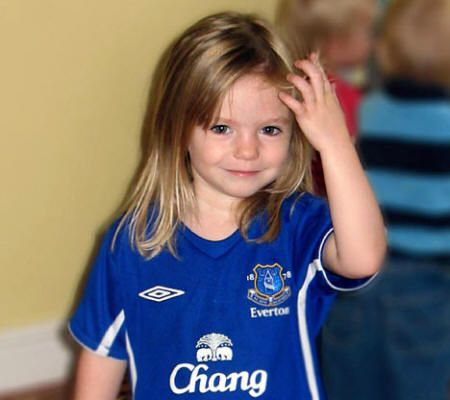 It has been 100 days since Madeleine McCann disappeared
More than 1,000 potential leads have been followed up since Madeleine went missing, with reported sightings around the world including Argentina, Switzerland, Malta, France, Guatemala and Belgium.
Police are testing traces of blood found by sniffer dogs in the bedroom from which she was taken and investigating other possible leads.
The little girl's mother Kate and father Gerry, who is originally from Glasgow, have remained in the resort since her disappearance, and have said they are determined to stay.
The couple have been attending a service at a church in the Praia da Luz to say prayers to mark her disappearance.