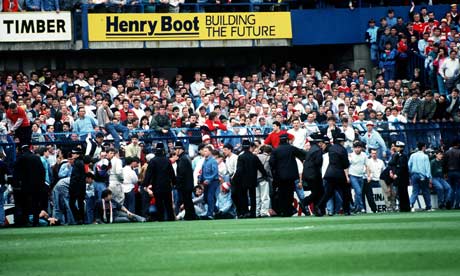 The Hillsborough disaster. Whites Press Agency, which provided the most controversial stories to the Sun, said its reports on the tragedy were based on the claims of four senior police officers. Photograph: Stewart Kendall/Sportsphoto

Lord Justice Taylor's Hillsborough inquiry (mostly) relied on what the police told him. When Kelvin MacKenzie's Sun lashed the Liverpool fans, he (completely) relied on police say-so too – and now offers "profuse apologies".
When the Press Complaints Commission pushed aside Guardian evidence on phone-hacking, it did so because the police said there was nothing new here. When the press raised brutal questions about the McCanns, they echoed Portugal's police. And Christopher Jefferies, the teacher falsely pursued for the murder of Joanna Yeates? Another duff police tip, averred the (then) editor of the Daily Mirror.
There's a simple moral here, for journalists and judges alike.: base no sweeping assertions, no headlines, no resounding conclusions, on what the police hint, suggest, appear to conclude or sometimes testify. Wait for a court verdict based on proper rules of evidence.
Dame Elizabeth Filkin's conclusion post-hacking – that police should henceforth keep a prudent, formal distance from media contacts – may still be sensible enough. But not to keep the police safe – more the other way round.