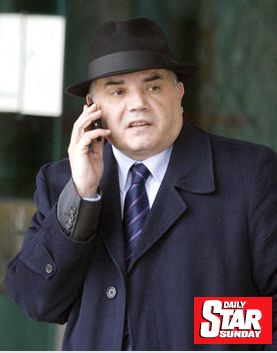 ABOVE: Claims: Goncalo Amaral
THE parents of Madeleine McCann will avoid a showdown with a former police chief who wrongly claimed they lied about their daughter's disappearance.
Kate and Gerry McCann are hoping to win a £1million libel payout from disgraced Goncalo Amaral, who they say has made their life hell.
But the McCanns, both 44, are staying away from this week's trial in the Portuguese capital Lisbon.
Mr Amaral, 55, is attending the four-day hearing, which is scheduled to start on Thursday.
Kate and Gerry branded the ex-officer "poisonous" for claiming in a once-banned book that Maddie is dead and that they lied about her disappearance.
Their daughter vanished in Praia da Luz, Portugal, five years ago, aged three.
The McCanns' lawyer Isabel Duarte said yesterday: "Kate and Gerry are not needed in Portugal for the trial."
She said they were confident of victory, adding: "We reasonably expect compensation for the dreadful damages this book has brought the family."
Any payout will be spent entirely on the continuing global search for Maddie, the couple said.
Mr Amaral led the bungled investigation but was sacked for criticising British police.

Kate wrote in her 2011 book Madeleine: "That man has caused us so much upset and anger."