A close friend of Kate and Gerry McCann has told the BBC she saw a man carrying a child through the Portuguese holiday resort where they were staying.
In an exclusive interview, Jane Tanner said she remained adamant Madeleine McCann had been abducted.
Ms Tanner was among a group of friends who dined with the McCanns on 3 May as they left Madeleine and their two other children asleep in an apartment nearby.
Her parents were named as official suspects in September.
Madeleine, from Rothley, Leicestershire, vanished from the family's holiday apartment in Praia da Luz days before her fourth birthday.
Ms Tanner told the BBC's Panorama programme how her friend Rachael came to her holiday apartment to tell her Madeleine had gone at about 10pm.
"I know what I saw and I think it's important that people know what I saw because I believe Madeleine was abducted"
Jane Tanner
"And then I saw Kate and Fiona running around shouting 'Madeleine', and Kate said to me, 'Jane, Madeleine's gone, Madeleine's gone'.
"And that's the first I heard."
Jane Tanner is potentially a crucial witness in the police investigation.
Ms Tanner says at about 9.15pm she saw a man walking away from the complex with a child, but at the time thought nothing of it.
It was another 45 minutes before friends informed her Madeleine had disappeared and now she says she is convinced that child was Madeleine.

'Liar and fantasist'

Much of the police investigation focuses on the timeline of events on the night of 3 May.
And the group of friends who dined together - the so-called Tapas Nine - have been key to piecing it together.
Among them were friends and fellow holiday-makers including Rachael Oldfield and Fiona Payne.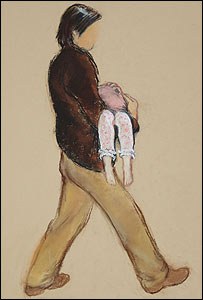 The face was left blank as Ms Tanner could not recall some details
Ms Tanner insists she has done everything to help with the police investigation but decided to talk to the media after being called "a liar and a fantasist".
"I know what I saw and I think it's important that people know what I saw because I believe Madeleine was abducted," she said.
Ms Tanner also said that she would be willing to be questioned again by police if it helped with Madeleine's investigation.
Last month the McCanns released artist's sketches of a man drawn by an FBI-trained forensic artist using details from Ms Tanner.
She had described the man she saw as aged about 35 to 40, 5ft 6in (1.7m) tall, and slim and the child he was carrying was described as wearing the same pyjamas as Madeleine.
The artist, commissioned by private detectives working for the McCanns, left the man's face blank as Ms Tanner was unsure about some details
The police say they do want to speak to all friends who were with the McCanns on the night Madeleine vanished.
They are reassessing the case but continue to believe that Madeleine was either abducted or died as a result of an accident in the holiday flat.
The full interview with Jane Tanner can be seen on Panorama: The Mystery of Madeleine McCann on BBC One at 2100 GMT on Monday 19 November