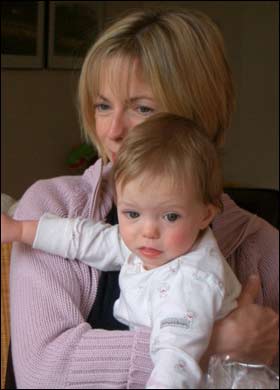 Loving ... Kate cuddles Maddie
in photo newly released by pals
A FRIEND of the McCanns who believes she saw Madeleine being abducted has admitted being wracked by guilt every day since.
In an emotional interview Jane Tanner, a close friend of Kate and Gerry and one of the Tapas Nine, spoke of her 'horrible realisation I had seen the abductor and done nothing'.
Jane says her 'heart went to her boots' and she has been haunted by the moment ever since.


In a riveting TV special Jane, 36, breaks the silence she has kept for the six-and-a-half months since Maddie, four, went missing from a holiday apartment in Praia da Luz, Portugal.
And she reveals astonishing new detail about the events before the horror ' and panic after.
Jane decided to speak out because of the insinuations being made about her.
She said: 'I'm talking now because I'm being called a liar and a fantasist. I know what I saw, I know the truth.'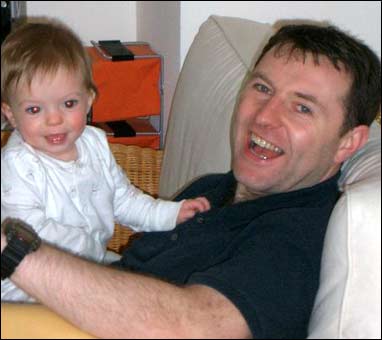 Touching ... Gerry holds Maddie
in pic released by friends yesterday
The mum of two from Exeter, along with her partner Dr Russell O'Brien, Kate, Gerry and five other friends were dining in the tapas bar of the holiday complex when the horror began to slowly unfold.
All had taken it in turns to make checks on their children.
Putting the events of the evening in context, BBC1's Panorama next Monday reveals that when Gerry made his last check at around 9.05pm his children's bedroom door was open. He closed it. Gerry later became convinced he had closed the door when he and Kate left.
Details
It means the abductor may have been in the apartment already when he made his final check.
Jane went to look in on her daughter around the same time, and as she walked up the path to the apartment saw Gerry talking to another holidaymaker.
It was at that moment that she spotted a man carrying a child.
Jane said she did not realise it was Maddie because she knew Gerry had just checked on her and his twins and believed they must all be tucked up safely in bed.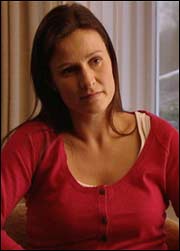 I'm telling truth ... Jane
breaks silence on TV
She only caught a quick glimpse of the man who walked from left to right in front of her.
But she was able to describe the man as swarthy with dark curly hair. She could not see the child's face, only her bare feet dangling down and pink and white pyjamas.
Jane told interviewers: 'I never in a million years thought it could have been Madeleine.
'There is a creche nearby and I thought he might be a father picking up his child from there.
'I only saw him for a few seconds. It was very dark.'
Last month the McCanns released a picture of the man created by an artist using details provided by their pal.
Jane then went to her apartment to see her daughter who had been sickly for a few days and had been vomiting that night. Jane returned to the tapas bar at around 9.25pm.

She did not mention the man she had seen because she did not realise the significance. Jane's partner Russell then went to make a check at around 9.45pm.
Friend Mathew Oldfield went with him to look in on his children and also offered to go to the McCanns' apartment to check on Maddie and their twins.
Until now it was thought that Mathew just listened at the door, but in the programme it is revealed he actually went in and looked into the bedroom.
But from his vantage point he could only see the twins, not Maddie who was behind the open door. As all was silent he thought things were fine.
Mathew did not know that Gerry had found the door open and closed it around 30 minutes earlier. At the same time, Russell was discovering his daughter had been sick and called to Mathew to ask Jane to return.
Jane got back there around 9.50pm and Russell returned to the tapas bar.
At around 10pm Kate went to check. When she arrived, she found the bedroom door still open.
Screaming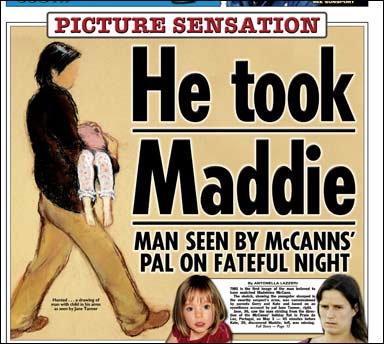 Clue ... Jane's picture of fiend in Sun
She stepped into the room and saw the window and shutter were up and Madeleine was missing. Her cuddle cat was on the bed along with the blanket Maddie had been snuggled in.
A source said: 'Kate ran round the apartment in total panic checking every wardrobe, under the beds, the bathroom, everywhere.
She then ran screaming to the tapas bar telling her friends 'Madeleine's gone, Madeleine's gone, someone's taken her!' All hell broke loose. Chaos erupted, everyone got up and ran to the apartment.'
As Jane heard the news, she realised the child she had seen nearly an hour earlier being carried off was almost certainly Madeleine.
When two cops arrived around 11.15pm Jane told them. She did a more formal interview at around 3am. Gerry was present and it was the moment he learnt Jane had seen an 'abductor'.
Until then she had not had the opportunity to tell Kate and Gerry. They had been too busy hunting their daughter.
Jane said she felt 'total guilt' when she revealed what she had seen. Later she found out Madeleine had been wearing pink and white pyjamas.
Jane said she thought: 'Oh my God, I saw him. It was that man.'
She wished over and over again that she had seen the girl's face ' and stopped the man.
Jane vehemently denied that any of the Tapas Nine lied. She said: 'All of us have told the truth. There is no cover up, or lying.'
Kate and Gerry, both 39 of Rothley, Leics, could not do the TV interview themselves as they are official suspects. Their spokesman Clarence Mitchell said they were grateful to Jane.
He said: 'She felt very strongly that it was important she speak out on behalf of Kate and Gerry. They can't.'
The Panorama programme also features a poignant video diary of the McCanns' search for Madeleine ' shot in Portugal and Spain by a friend of the couple.